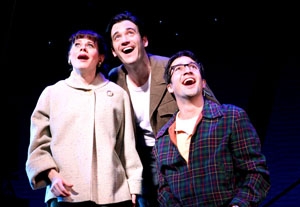 A late bloomer, I lost my innocence on Oct. 1, 1981, at age 27. That night I stood at the back of the Alvin Theatre at the first preview of the new musical "Merrily We Roll Along" and watched an audience of Stephen Sondheim and Harold Prince devotees go from giddy enthusiasm (for the stunning showbizzy overture) to confusion, disappointment, despair, and outright hostility. My gods were proved human, and I was not happy. I returned to see the finished product, but though director-producer Prince, composer-lyricist Sondheim, and book writer George Furth had worked hard, the show still did not jell and closed after 16 performances. More rewrites and a series of productions would follow over the next three decades, but the two subsequent incarnations I caught were still unsatisfying. I finally decided the show was unfixable. I was wrong. Adapter-director James Lapine's brilliant staging at Encores! is quite simply one of the finest evenings of musical theater I have encountered. This "Merrily" is magic.
Based on a play by George S. Kaufman and Moss Hart, the show tells the story of the close friendship shared by composer Franklin Shepard, playwright-lyricist Charley Kringas, and novelist Mary Flynn and how it painfully unravels. Beginning in 1976 and moving backward to 1957 allows the musical's cautionary tale of bargains made and ideals compromised to unfold as a heartbreaking journey into innocence. Frank, driven by a need for commercial success, trades in wives and goes Hollywood, which ruptures his relationship with artistically high-minded Charley as Mary, silently in love with Frank, takes to drink and self-disgust.
In previous editions, it felt as if the authors were castigating Frank and siding with his compatriots. Not anymore. Charley's rigidity and self-righteousness and Mary's neediness and judgmentalism are just as responsible for the train wreck as Frank's misplaced values. In addition, Furth's book revisions, made largely under Lapine's acute structural eye, dramatize crucial decision-making moments that were once left offstage, weaving them into the characters' relationships and resulting in a taut narrative thread.
The six principals (there are also Frank's first wife, Beth, and Broadway musical star Gussie and her producer-husband Joe) deliver complex acting while beautifully serving Sondheim's sensational score. Colin Donnell endows Frank with great likability and a quiet charisma that explain why all and sundry are drawn to him, yet the actor always maintains an intriguing aloofness. He's particularly good in the first scene, subtly suggesting a man bewildered by the fact that his success isn't making him happy. Celia Keenan-Bolger excels at charting Mary's journey from cynical alcoholic to puppyish neophyte, gradually mixing youth and optimism into her portrait while keenly differentiating Mary at multiple ages. Her rendition of a reprise of "Not a Day Goes By" aches with longing. Lin-Manuel Miranda disappears into the role of Charley, bright and chipper in his enthusiasm yet always on a hairpin trigger. He offers a rigorously intelligent account of Charley's TV-talk-show implosion, "Franklin Shepard, Inc.," and wisely accentuates Charley's inability to change.
Betsy Wolfe is a strong and centered Beth, refusing to play her as the angry victim others have, and stops the show with a wrenching "Not a Day Goes By." As Gussie, Elizabeth Stanley is pretty much perfection, always reminding us of the gap between Gussie's constructed public persona and the private woman, highlighted by her knockout back-to-back performances of "The Blob" and "Growing Up." Adam Grupper's quirkily specific Joe blows the dust off the Runyonesque cigar-chomping-producer archetype, and he sings almost too well in the delightful "Opening Doors." Special mention must also be made of 8-year-old Zachary Unger, whose affecting simplicity as Frank's son fills the cavernous City Center auditorium despite his small stature.
Lapine makes potent use of Wendall K. Harrington's clever era-anchoring videos, a function Ann Hould-Ward's rich and detailed costumes also accomplish. Dan Knechtges contributes witty musical staging, especially in the revue number "Bobby and Jackie and Jack." The Encores! Orchestra has never sounded better, biting into Jonathan Tunick's glorious orchestrations with relish under Rob Berman's assured baton.
If any Encores! show ever deserved a Broadway run, it's this one. Thanks to the persistence of Sondheim, Furth (who died in 2008), and Lapine, the ranks of great American musicals just swelled by one.
Presented by Encores! at New York City Center, 131 W. 55th St., NYC. Feb. 8–19. Tue. and Wed., 7 p.m.; Thu. and Fri., 8 p.m.; Sat., 2 and 8 p.m.; Sun., 2 and 7 p.m. (212) 581-1212 or www.nycitycenter.org. Casting by Jay Binder.