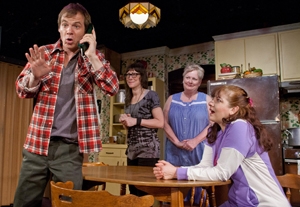 The modern world is overwhelming the Nowak family, the Polish-American clan depicted in Tom Dudzick's sitcom-like 90-minute play "Miracle on South Division Street," now at St. Luke's Theatre after a run at Penguin Rep Theatre in Stony Point, N.Y. Mother Clara sees old values eroding as her Buffalo neighborhood crumbles. Son Jimmy is thinking of marrying outside the family's Catholic religion. Daughter Ruth is coming to terms with her sexuality and wants to move to New York to pursue an acting career. Her sister Beverly still can't find a husband after numerous attempts at romance through the Internet. She says she has found her latest beau "the reliable way—at a bar." That's the level of the humor, folks.
These cliched plotlines all come to a head as Ruth calls a meeting to discuss the truth behind the family legend, the miracle of the title. In the 1940s, Clara's father, a barber, claimed to have seen a vision of the Virgin Mary, who delivered a message of world peace. He erected a statue to the blessed one with a mailbox for donations and requests for blessings. Ruth has a secret to reveal about the event that will shatter the Nowaks' faith and idealization of themselves as chosen by God. 
Dudzick's script is littered with lame jokes about Catholics, Jews, and working-class prejudices that would have been shockingly funny about 40 years ago. But we've come a long way since "All in the Family." It's hard to swallow that a seemingly intelligent young woman like Ruth would never have heard of gefilte fish. The storyline requires an unusually heavy suspension of disbelief. The big secret involving the origins of the statue is a convoluted series of melodramatic revelations worthy of a soap opera of the same era as the classic Norman Lear series.  
Joe Brancato's direction at least keeps the pace moving, and the four-person cast tries its best to bring some verisimilitude to their flimsy roles. Andrea Maulella subtly limns Ruth's desperate need to get out of the confining mindset of her hometown, and Rusty Ross gives Jimmy a few genuine moments of affection amidst the wisecracks. But Liz Zazzi goes too far over the top to demonstrate Beverly's vulgarity. Peggy Cosgrave gets across Clara's basic sympathetic nature hidden beneath her small-minded religious views. The awkward moment when Ruth leaves the Nowak kitchen (nice realistic design by Josh Iacovelli) and Cosgrave hesitates and finally fails to hug her is the most honest and touching scene in an otherwise predictable and silly show. 
Presented by Penguin Rep Theatre and Morton Wolkowitz at St. Luke's Theatre, 308 W. 46th St., NYC. Opened May 13 for an open run. Schedule varies. (212) 239-6200 or www.telecharge.com. Casting by Cindi Rush.