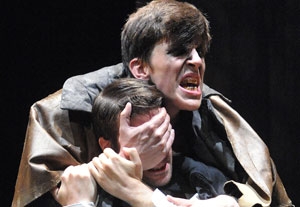 Playwright Neal Bell returned to the source of the Frankenstein legend when he adapted Mary Shelley's 1818 fantasy novel to the stage in 2002. Instead of the mute murderous brute seen in James Whale's 1931 Hollywood horror classic, Bell's creature is closer to Shelley's original: an articulate soul, yearning to understand why he was brought to life by the questing scientist who assembled his body from corpses. Similarly, this Victor Frankenstein is no wild-eyed madman; he's a conflicted scholar seeking to comprehend the mysteries of existence. As in the book, the story is told in flashback by the scientist to a sea captain in an Arctic wasteland, where the former is trailing his creation to destroy it. Michael Greif's original production for Classic Stage Company effectively combined scary suspense with philosophical debate.
The Potomac Theatre Project is to be commended for its ambition in reviving this challenging piece, but director Jim Petosa and his company—consisting of current and recent college students and more-seasoned players—are not quite up to it. Rather than blending the intellectual themes with a scary gothic atmosphere, Petosa emphasizes the dialogue and gives the staging a glacial pace. This monster will talk you to death before strangling you. I kept wondering why his victims don't just run away while he's jawing about his existential angst.
The design elements don't help. Hallie Zieselman's bare set, featuring dead specimens in gauzy cages suspended above the stage, is intriguing but not eerily disquieting. Mark Evancho's lighting and Aubrey Dube's sound are generic and fail to frighten. On the plus side, Adrienne Carlile and Christine Han designed detailed and beautiful period costumes.
The casting is also flawed. The creature is played by an attractive young man named John Zdrojeski, whose good looks are not masked by a few makeup scars and blackened teeth. The concept of a gorgeous monster was used in the 1973 TV-movie version of the story, written by Christopher Isherwood and Don Bachardy. It could have worked here, but Zdrojeski fails to summon the necessary rage and passion to inspire the terror that would counteract his comely countenance. Likewise, Joe Varca doesn't convey Victor's burning quest for knowledge and later revenge against the monster, instead playing a single peevish note. As his simpering fiancée, Elizabeth, Britian Seibert is similarly limited.
The rest of the ensemble has better luck in dual roles. Paula Langton lights a blazing fire in both Victor's sourpuss mother and a saucy maid. Noah Berman electrifies Will, Victor's bratty little brother, and a talking cat with caustic energy. As Victor's befuddled father and a quarrelsome ship's mate, Ken Cheeseman has a solid dignity. Christo Grabowski does not register as Clervall, a friend of Victor's with suppressed homosexual longings for the scientist, but he has more forceful impact as the ship's captain.
Petosa does explore the homoerotic undertones of Bell's adaptation and supplies a mildly bracing sexual subtext to the staging. The climactic encounter between Victor and the creature has hints of sadomasochism, with each doused in kerosene and attempting to set the other afire in a deadly embrace. But, as with the production itself, the sparks fail to ignite.
Presented by PTP/NYC (Potomac Theatre Project) at Atlantic Stage 2, 330 W. 16th St., NYC. July 9–29. Schedule varies. (212) 279-4200 or www.ticketcentral.com.