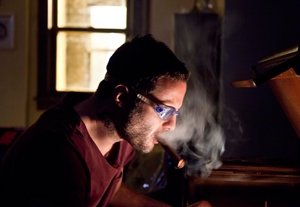 Brett C. Leonard's "Ninth and Joanie" is a bit of a sociological experiment. For the first 20 minutes very little happens. Sure, there's intro music to signal that the play has started, but the beginning consists of a father and his son sitting in silence. The father smokes a cigar as the son plays with a Ouija board. It's sort of like watching security-camera footage or an unedited reality-television reel. The dramatic scenario functions as an introduction, but what comes after isn't appreciably more interesting.
There are heightened scenes, three to be exact. Two involve death, the ultimate dramatic moment and a distinct contrast to the play's general stasis. The characters are cripplingly one-dimensional. Charlie is the Italian master of the family, and his unmotivated, lazy adult son Rocco lives with him. Their wife and mother has just committed suicide, brought on by the stress of her young daughter Joanie's death 15 years earlier at the hand of a drunk driver. The action, if you can call it that, picks up when estranged brother Michael shows up after the memorial service. Michael has come back home with a motive: to see his stubborn, unforgiving father and mend and destroy family ties forever.
With the material they've been given, the actors can only perpetuate the stereotypes. As Charlie, Bob Glaudini exudes the air of a Mafia lord, even while wearing long underwear. Kevin Corrigan disappears behind Rocco's sloth. Dominic Fumusa is energetic as Michael, but he struggles to add substance to his character. Samuel Mercedes hits all his marks as Michael's young son, Carlito, while Rosal Colón, as Isabella, Michael's wife, delivers her second-act monologue with an impressive seething deadpan.
David Meyer's set epitomizes the family's poverty, but due to the theater's seating configuration, patrons in the side sections can't see into every room of the house, and key parts of director Mark Wing-Davey's staging are lost. Wing-Davey keeps the proceedings moving despite the lack of dialogue, and the characters feel natural in their home. Whether their actions can engage an audience is another matter entirely.
Ultimately, the play ends in much the same way that it began, as a sort of waiting game. As Charlie puffs on yet another cigar, it begins to feel like the actors are trying to smoke the audience out of the hot theater. Wing-Davey's concept definitely immerses us in the environment, but when all you're immersed in is cigar smoke, it seems a little pointless.
Presented by Labyrinth Theater Company at the Bank Street Theater, 155 Bank St., NYC. April 18–May 6. Tue.–Fri., 8 p.m.; Sat., 2 and 8 p.m.; Sun., 7 p.m. (212) 513-1080 or www.labtheater.org.