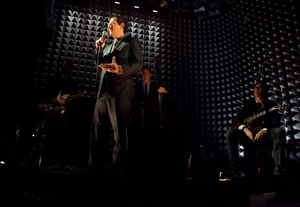 Ethan Lipton's "musical ode to unemployment," "No Place to Go," is definitely topical. With the seemingly never-ending recession and the nationwide Occupy movement serving as context, the jobless and the underpaid will no doubt find solace in Lipton's cabaret evening about layoffs and corporate hierarchy. Lipton, however, works in the arts, an industry that boasts high unemployment with or without a poor economy. In addition, the classy though crowded Joe's Pub is not your typical gritty downtown venue. Bohemian whining in such surroundings comes across as ironic rather than sympathetic.
In this elliptical piece—an autobiographical allegory, if you will—Lipton works part-time as an information refiner for a company that buys and sells it. When the company announces a plan to relocate to Mars, employees must decide whether or not they will move there. Lipton weighs his options and mourns the loss of the "good stuff," aka a job with affordable health insurance, sick leave, and a pension plan. While these perks are nice, Lipton, a playwright and singer-songwriter, never had them in the first place, as few part-time employees at any corporation do. He's correct that business "has nothing to do with people," but listening to a struggling artist complain about his chosen profession turns grating after a while.
In any event, Lipton can hardly be considered a struggling artist anymore. The Public Theater commissioned this piece as part of its New York Voices program, and he was part of the Public's Emerging Writers Group in 2008. His talent is evident, and his charming quirks epitomize him as a downtown artist. With the help of a three-piece band—Vito Dieterle (saxophone), Eben Levy (guitar), Ian M. Riggs (bass)—Lipton captivated a responsive audience with folksy tunes in the vein of Woody Guthrie and Bob Dylan.
Although Lipton never names "his town," the work possesses an obvious New York sensibility, as he talks about high rent and the "stubborn, exhausted, magical thinkers" that live there. (A rowdy audience member got audibly offended at his New Jersey dig.) Leigh Silverman's careful direction doesn't quash Lipton's idiosyncrasies, though at times his performing style feels more rehearsed than casual. He could have done more ad-libbing, particularly when raucous audience members made comments.
Lipton's troubadour-like storytelling conjures thoughts of a less-cool Ferris Bueller. He recognizes that the corporate giants owe him nothing as a part-time employee yet still manages to grumble about it for 90 minutes.

Presented by the Public Theater at Joe's Pub, 425 Lafayette St., NYC. March 21–April 8. Schedule varies. (212) 967-7555 or www.publictheater.org.