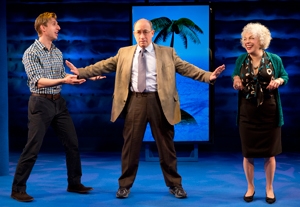 To paraphrase Chuckles the Clown from that immortal episode of "The Mary Tyler Moore Show": Sometimes you just need a little song, a little dance, and a little seltzer down the pants. That's basically all that's on offer from new entertainment "Old Jews Telling Jokes," which is easily summed up by its title. Three mature performers and two younger ones spend 90 minutes rattling off gags, most of which deal with the state of being Jewish. There are a few old chestnuts which we've all heard at family gatherings, but the material is delivered with such loving, gentle humor, speed, and an eagerness to please that we don't mind the over familiarity. Almost all of the jokes are genuinely funny and land solidly thanks to the expert timing of the cast and the admirable pacing of director Marc Bruni. I found myself jotting down many of jokes in my program so I could repeat them to friends.
Though there are a handful of numbers (including a snappy title song and Tom Lehrer's satiric classic "I'm Spending Hanukkah in Santa Monica," which is performed as a sing-along), to call the show a musical revue would be stretching it. Each of the five performers has a short monologue on how the Jewish penchant to laugh at life's troubles has affected them. There are also vintage video clips of comic Alan King giving his stand-up routine at a huge club. But theses vignettes are like short pauses to allow the theatergoers to catch their collective breath before they guffaw some more, and the King video seems like padding, as if the creators had run out of their own yucks.
Not surprisingly, there are no writers credited. The script -- presumably assembled by Peter Gethers and Daniel Okrent, who are listed as creators -- is divided into various subject headings that are projected on a screen. From birth to the pangs of early romance to the infirmities of old age, the seven ages of man (and woman) are kidded. Todd Susman, a familiar face and voice from television (he was the unseen P.A. announcer on "MASH"), understatedly embodies the sad-sack butt of many of the gags. His dry, deadpan delivery produces much of the show's hilarity. Marilyn Sokol, veteran of dozens of stage and screen comedies, adds just the right grimace, twist of the eyebrow, or slight raising of the voice to punctuate the punchlines. Lenny Wolpe masterfully portrays dozens of personae, from henpecked husbands to doddering grandfathers. As the younger generation of jokesters, Bill Army and Audrey Lynn Weston display solid comic chops. Army is particularly touching in a monologue about a young man dealing with the terminal illness of his father, who still cracks wise from a hospital bed.
While it may not transfer to Broadway and win a dozen Tony Awards, "Old Jews Telling Jokes" is a pleasant, enjoyable diversion. It's like spending an evening with your favorite funny uncle. Will it solve world peace? No, but it couldn't hurt.
Presented by Daniel Okrent & Pete Gethers, Richard Frankel, Tom Viertel, Steven Baruch, and Mar Routh at the Westside Theatre, 407 W. 43rd St., NYC. Opened May 20 for an open run. Schedule varies. (212) 239-6200 or www.telecharge.com.  Casting by Tara Rubin Casting.