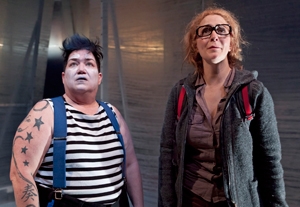 Director Josh Hecht has neatly split Drew Larimore's play "Out of Iceland" into two distinct—and stylistically opposed—halves. The more engaging half is a tender romance between an Icelandic cowboy and a visiting historian, who meet on the edge of a volcano in Askja, Iceland. The second half involves Lea DeLaria as a magical "hidden person" named Thor, who sings "Bali Hai" in Icelandic.
What on the page comes across as a fluffy cloud of whimsy has been transferred to the stage by Hecht and company with all the subtlety of a bullhorn. DeLaria underscores her punch lines with the verbal equivalent of a black Sharpie; she's not going to let a single audience member get away without noting that she has uttered something funny. To her credit, we're all aware that we should be laughing; we just aren't.
As for the romance between Hal (Michael Bakkensen) and Caroline (Jillian Crane), the two spar and make up convincingly enough, but there are no stakes involved, and the requisite happy ending is never in doubt. Both characters have deadly backstories that have allegedly rendered them vulnerable deep down inside, but Bakkensen and Crane misguidedly show that vulnerability fairly early on, leaving the play bereft of surprises. Bakkensen fares best, playing Hal with a hayseed accent that accentuates his innate kindness while also trawling for laughs. Crane's turn as Caroline is less convincing, perhaps because half of her time onstage is spent trying to interact with DeLaria's scenery-chomping Thor. A serious miscalculation on the part of both DeLaria and Hecht, Thor proves that sometimes the things that happen in Iceland should stay in Iceland.
Presented by Alfred R. Kahn, in association with Culture Project, at Walkerspace, 46 Walker St., NYC. April 1–22. Tue.–Sat., 8 p.m.; Sun., 7 p.m. (Sun, April 22, performance is at 3 p.m.) (212) 352-3101, (866) 811-4111, www.theatermania.com, or www.outoficeland.com. Casting by Jack Doulin.