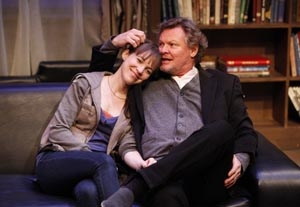 The chess pieces holding pride of place amid the books on the shelf-lined walls in "Poetic License" presage what's to come in Jack Canfora's new play. For most of this drama about a poet, his family, and his daughter's new boyfriend, the promise of a wily game of wits that Jessica L. Parks' set indicates is fulfilled—until Canfora's script starts treading water.
John Greer (Geraint Wyn Davies) is about to be named poet laureate of the United States on the eve of his birthday, and his worshipful, aspiring-poet daughter Katherine (Natalie Kuhn) has brought boyfriend Edmund (Ari Butler) home for the occasion, despite her ambivalent feelings toward her driven mother, Diane (Liza Vann). The awkward family dynamic quickly takes a back seat to Edmund's secret agenda. As he slowly teases, he's not quite as intimidated by Katherine's father as he said.
Director Evan Bergman takes his time unspooling the complicated rhythms of the Greers, from the antagonistic Katherine to the stylized, ironic Diane. As allegiances change and secrets are revealed—to the cast's credit, even Canfora's more melodramatic moments seem organic in this family of poets—Bergman keeps the audience uncertain as to whom to believe. Do Edmund's wild-eyed claims have any truth to them? Is John's relative calmness a sign of a clean conscience or the mask of a master manipulator?
Where Canfora falters is in the verbal tennis match that takes up the play's last third. Edmund charges one thing; John refutes it. Change the dialogue slightly and repeat. The back-and-forth grows wearisome, leaving the plot stalled. What was a funny, intriguing glimpse at the backbiting world of literature becomes bogged down in he said, he said.
The cast remains solid throughout. Vann is a delight as the clipped Diane, giving her lines a haughty, Katharine Hepburn zing. And Butler is appropriately cunning as the crafty Edmund, hell-bent on maximizing the damage of his bombshell accusations. The final moment is chilling, but Canfora gets distracted by his own hyper-articulate characters and lets them run on a few times too often. For a play that frequently quotes Shakespeare, Canfora would have done well to heed one particular dictate: "Brevity is the soul of wit."
Presented by the Directors Company, in association with New Jersey Repertory Company, at 59E59 Theaters, 59 E. 59th St., NYC. Feb. 15–March 4. Tue.–Thu., 7:15 p.m.; Fri., 8:15 p.m.; Sat., 2:15 and 8:15 p.m.; Sun., 3:15 p.m. (212) 279-4200 or www.ticketcentral.com.
Casting by Judy Henderson.