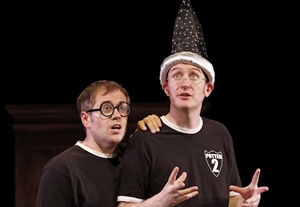 Daniel Clarkson and Jefferson Turner, the inspired writers and performers of "Potted Potter," seem to know no bounds as they perform their giddy, Olivier Award–nominated show that condenses the entirety of J.K. Rowling's "Harry Potter" book series into 70 frequently hilarious minutes. You don't need to have much—if any—knowledge of the popular stories and the movies they've inspired about the titular boy wizard to enjoy this show. All you need is a willingness to go along with the duo's goofiness, which brings to mind the work of the Reduced Shakespeare Company, another group of writer-performers that condenses hefty material into gag-fueled theater.
The duo—with Turner generally serving as straight man to Clarkson's hyper-kinetic persona—prove amiable guides through the material, initially inducing smiles as Clarkson reveals the bits of scenery he's "assembled," including a flat painted to resemble a cartoon desert island and a huge wardrobe (the set is by Simon Scullion). As Turner is the Potter expert, he's naturally aghast that the former object is meant to be Rowling's dreaded "Forbidden Forest" and even more appalled that Clarkson has confused C.S. Lewis' Narnia tales with the Potter ones.
Rather than becoming tiresome, the dynamic of a frustrated aficionado squaring off against someone almost willfully ignorant of the subject at hand proves to be a source of ever-growing mirth. Clarkson steadily escalates what could be described as the antics of a Ritalin-deprived 4-year-old as he whisks through playing dozens of supporting characters to Turner's dry portrayal of Harry, producing furry stuffed animals, manipulating them with flair, and accompanying their appearances with what seem to be improvised comments regarding some of the books' most fearsome creatures. He also takes a wacky delight in undermining his pal's oh-so-serious demeanor.
The routine and rhythm of the show are cleverly broken up in a variety of ways. One video sequence takes theatergoers through one of the more complicated books with comic aplomb. And while an audience-participation sequence that asks us to re-create a Quidditch match (a sport that's played while flying on brooms) is overlong, Clarkson nevertheless demonstrated real skill working with two onstage grade school–age volunteers while theatergoers haplessly bounced an inflatable ball overhead.
The show quickly rebounds from this section and steamrolls toward the final and more cataclysmic tales. To their credit, Turner and Clarkson even manage to make the series' conclusion vague enough that should you decide to read the books after taking in "Potted Potter," you won't know how the saga ends. Of course, you may have a very difficult time taking it seriously.
Presented by Corey Ross/Starvox Entertainment, Embrace, and James Seabright for Potted Productions at the Little Shubert Theatre, 422 W. 42nd St., NYC. June 3–Sept. 2. Tue. and Thu., 7 p.m.; Wed., 2 and 7 p.m.; Fri., 8 p.m.; Sat. 2, 5, and 8 p.m.; Sun. 2 and 5 p.m. (Additional performances Mon., July 2, 2 and 7 p.m.; no performances Wed., July 4.) (212) 239-6200, (800) 432-7250, or www.telecharge.com.