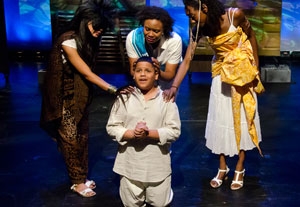 The promise of the musical "Rio," as promoted by its two Canadian creators, Mitch Magonet and Joey Miller, is the story of "Oliver Twist" relocated to 21st-century Brazil on the eve of Carnaval. But in execution visions of "Oliver!" or "Pixote," the heartbreaking 1981 film about Brazilian urchins, suddenly give way to comparisons with Paul Simon's "The Capeman." As in that largely unsuccessful musical, "Rio" has some tuneful songs and a propulsive beat, is backed by a wonderful band, but its potentially compelling story is undermined by an errant sense of stagecraft.
A production in the New York Musical Theatre Festival, "Rio" is supposed to take place within a 24-hour period that climaxes with a samba parade. Pipio (Nicholas Daniel Gonzalez) has run away from an orphanage to find his mother. While in a favela, one of Rio de Janeiro's infamous slums, he witnesses a police captain (Lelund Durond) killing half a dozen street children. He falls in with a group of toughs, who take him to local drug dealer Samson (Nik Walker). Samson assigns his girlfriend Neves (Tanesha Ross) to take care of Pipio, and the young boy and the beauty form a bond. Betrayal, corruption, violent confrontations, colorful costumes, and a revelation about the boy's past ensue.
The problem with the musical is its failure to carefully construct what should be the central dramatic moments. This is most evident in the several acts of violence, starting with the massacre by the police captain, whom we simply see shooting a gun a few times. It is difficult to piece together what's going on, much less to be shocked by it or care about the fate of the characters.
The 12-person cast includes several standouts. Every song Ross sings is lovely, as is she; in the cast of "Hair" last year, she is sure to be on one New York stage or another for some time to come. Dennis Kenney shows his acting chops by playing both a toughened mobster and a flamboyant transsexual. Jose Candelaria makes for a sinuous and appealing street kid. J. Manuel Santos is a sexy rival for Neves' affections and Samson's drug empire. But director Scott Faris has made an error in choosing Gonzalez for the central role of Pipio. Despite credits ranging from "Sesame Street" to the Royal Shakespeare Company, he gives a school-level performance.
Presented by Nest Productions and Pinny Gniwisch as part of the New York Musical Theatre Festival at the Theatre at St. Clement's, 423 W. 46th St., NYC. July 13–18. Remaining performances: Fri., July 13, 9 p.m.; Sat., July 14, 5 p.m.; Sun., July 15, 8 p.m.; Wed., July 18, 9 p.m. (212) 352-3101, (866) 811-4111, or www.nymf.org. Casting by Jason Najjoum.