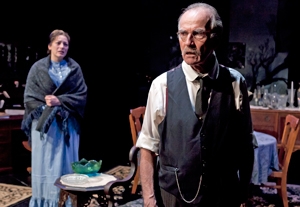 Mint Theater Company is doing a bang-up job with Githa Sowerby's flinty 1912 drama "Rutherford & Son." This dour tale of a driven glassworks magnate in northeastern England who so dominates his children that he sucks the very life out of them is rather hard to warm to, but that is compensated for by Sowerby's refreshing feminist perspective. Ultimately, there's barely a sympathetic character in sight in this gimlet-eyed indictment of societal values.
At 60, the still-vital John Rutherford rules his business and roost with an iron hand. Included in the household are John's querulous spinster sister, Ann; his rebellious first-born son, also named John, whom Rutherford feels married beneath his station; John's young wife, Mary, who talked her husband into leaving London and moving back home out of concern for their little boy's health; second son Richard, whose method of escape was to join the clergy; and morose daughter Janet, who's pushing 40 and never been kissed. Circling the family unit is middle-aged Martin, Rutherford's lifelong right-hand man at the factory.
Rutherford is relentless in his pursuit of business success ("Life is work," he pronounces), putting all of himself into the glassworks while withholding enough love to sink a frigate. Young John has stumbled upon a new formula for glass that he insists will make him rich and allow him to leave home again with his family, this time for good. He plans to patent it and sell it to his father. Rutherford, of course, believes that it is his by right. Martin knows the formula, having worked with John on the mixture, and is faced with a dilemma of divided loyalties. Woven into this main storyline is Martin's recently begun affair with Janet, who, fed up with chastity, pursued him. As the story plays out, Rutherford loses all three of his children, and it is left to Mary to drive a hard bargain with her father-in-law to guarantee the future of her son.
Mary is a fascinating character, and Allison McLemore shines in the role, deceptively unassuming and conventionally feminine at first, then revealing a spine of steel as she determinedly looks life in the face and does what is necessary for her boy's future without a trace of sentimental regret. Eli James is careful to locate the whiny self-righteousness that turns John's rebelliousness to bluster. Sara Surrey's heartbreaking Janet progresses seamlessly from surliness through hope and down into a deeply unsettling, glazed despair. As Richard, James Patrick Nelson's emotional constriction is palpable, though the role seems a bit of an afterthought. Sandra Shipley's Ann is suitably vacuous. David Van Pelt is a pitch-perfect Martin, completely convincing in a broken boyishness that prevents him from finding happiness. In a brief appearance as a tipsily aggressive mother trying to convince Rutherford to rehire her thieving son, Dale Soules offers an amusingly accurate portrait of obsequious scraping that devolves into angry scrapping.
There is, however, no play without a Rutherford, and talented director Richard Corley has one in the excellent Robert Hogan. Playing against the character's raft of unlikable qualities, Hogan makes the monster sound almost reasonable. He's clearly the adult in the room, at least until Mary surprises us, and something of a wit ("There are more ways than one of shirking life, and religion's one of them," he airily tells the pouting Richard). But when his world starts to fall apart, Hogan homes in on Rutherford's cavernously empty soul, and we are appalled at the damage wrought, not only to others but to himself.
Sowerby hid her gender by writing as K.G. Sowerby to avoid being dismissed as a female playwright, inferior by definition, and the ploy worked, as "Rutherford & Son" wowed the critics and went on to hit status in the West End and on Broadway. One hundred years later, the vitality of her vision remains apparent.
Presented by and at Mint Theater Company, 311 W. 43rd St., 3rd floor, NYC. Feb. 27–April 8. Tue.–Thu., 7 p.m.; Fri. and Sat., 8 p.m.; Sat. and Sun., 2 p.m. (No performance Tue., Feb. 28; additional performance Wed., March 7, 2 p.m.) (212) 352-3101, (866) 811-4111, www.theatermania.com, or www.minttheater.org. Casting by Amy Schecter.