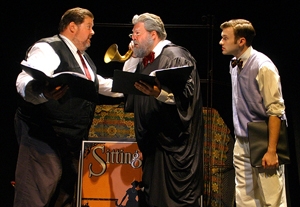 "Sitting Pretty," the sixth and final collaboration among Jerome Kern (music), P.G. Wodehouse (lyrics), and Guy Bolton (book), opened on Broadway 88 years ago this month and ran for 95 performances. It represented none of the best work of any of its three authors and has rarely been revived. Almost no one alive could have seen this show (certainly not the original 1924 Main Stem production)—until now. Furthering our musical comedy education, as it so often does, and filling in the gaps in our knowledge with forgotten shows and those that ran before we were born, Musicals Tonight! has given us a staged reading that is more engaging than the material it serves. Directed by Thomas Sabella-Mills, musically guided by David Bishop, and featuring a strong cast of singers, the production almost makes us believe that the show's 14 songs—none of which made it into the Great American Songbook—are forgotten gems.
The plot, set in the year the show was mounted, is typically silly for its era: the slightly pre-flapper 1920s, when plaid-jumpered orphan girls still wore long Mary Pickford curls and all the movies were silent. More to the point, this was three years before "Showboat," when the New York musical stage was still dominated by "Ziegfeld Follies"–style revues.
A wealthy bachelor socialite, the old and crusty Mr. Pennington (John Alban Coughlan), tired of his leeching extended family's designs on his money, decides to adopt two orphans, one male and one female, educate them, and marry them to one another, so that he can start a new, less avaricious family. The all-girl orphanage next door, founded by Pennington's grandfather, is a convenient source for the young woman, May (Diane Phelan), but the less-well-vetted young man, Horace (Graham Bailey), turns out to be a crook who's planning an inside job. May has a sister, Dixie (Chelsea Barker), a troublemaker who frequently sneaks into the big house next door and thus meets young Bill Pennington (Scott Guthrie), the old man's nephew, who is less grasping than the other relatives. The sisters switch young men amidst the foiled robbery attempt, which is complicated by the antics of Uncle Jo (Paul Romero), Horace's criminal mentor, posing as the lad's Pennington-hired tutor.
As the young lovers, Phelan and Guthrie are splendid, singing like angels and playing it straight, unlike some of the overacting veterans in the cast, who should know better. Barker and Bailey make a delightful down-market comedy duo, and Romero gets all of Uncle Jo's laughs, seemingly channeling Jackie Gleason. The whole cast of 18 is to be commended for knowing their songs by heart, even as their dialogue is mostly on book.
There are just a few hints herein of the Kern compositions and Wodehouse and Bolton narrative wit that had been and were yet to come. Here, the comedy is largely low vaudeville: Horace, in mid-heist, cautions Uncle Jo, "Keep your voice down!" He replies, "I can't. I'm a tenor."
Presented by Musicals Tonight! at the Lion Theatre, 410 W. 42nd St., NYC. April 17–29. Tue.–Sat., 7:30 p.m.; Wed., Fri., and Sun., 2 p.m. (212) 239-6200, (800) 432-7250, or www.telecharge.com. Casting by Holly Buczek.