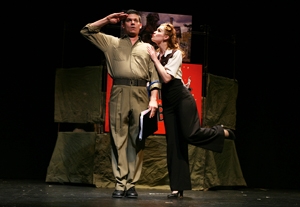 "Something for the Boys" was the fifth, last, and least Broadway collaboration of songwriter Cole Porter and star Ethel Merman, though it was a hit, running for the entire year of 1943. "Anything Goes" was their first, but, trust me, you will not be seeing Sutton Foster in "Boys" at the Stephen Sondheim Theatre anytime soon. So it's greatly to Musicals Tonight!'s credit that its concert staging of the show is as entertaining as it is. Director-choreographer Thomas Sabella-Mills clearly understands the requisite performance style and has elicited it with consistency from his talented company. Those interested in acquainting themselves with a missing link in Cole Porter's oeuvre should have no complaints.
Sibling book writers Herbert and Dorothy Fields' slaphappy script, intended only to distract audiences from the grim realities of World War II, concocts a tale of three distant cousins—each unknown to the other—who inherit out of the blue 4,000 acres of Texas land containing a dilapidated manor house. Upon arriving to claim their prize, they discover that soldiers from a nearby army training base, led by butch big-band leader Rocky, have been eyeing the domicile as housing for their girlfriends and wives. The cousins—brassy Blossom, faux-elegant Chiquita, and lowbrow Harry—agree to turn it into a boarding house. Blossom falls hard for Rocky, but he has a sweetheart, Melanie, the snooty daughter of a U.S. senator, who arrives and, angry at a trick the jealous Blossom plays on her, throws the scheme into chaos by claiming that the cousins are really running a bordello. Then Blossom discovers that she can receive radio signals through the fillings in her teeth (I'm not making this up) because of the carborundum that got into them from her factory work. She gives the info to a grateful army (soldiers can now be their own radios), Melanie's misinformation is exposed (somehow the two are linked), and all ends happily.
The big problem in mounting a Merman vehicle is finding a Merman. Lauren Elaine Taylor never once imitates the star, but her Blossom has the necessary spunk and sass, along with a clarion voice all her own that punches out into the house with warmth and color. Her big ballad, "He's a Right Guy," is just as lower-drawer as the title song, as is the charm duet Blossom shares with Rocky, "Hey, Good Lookin'," but Taylor's delivery of all three is top-drawer. Where she really scores, however, is on Porter's best song, "The Leader of a Big-Time Band," in which Blossom explains her romantic obsessions in a hilarious slangy lyric full of then-topical references ("When Goodman, champ of champs/Goes blowin' blue/Rum-ridden debutramps/Nearly come to").
Handsome Mike Backes is a take-charge, square-jawed Rocky, underplaying nicely and singing his big ballad, "Could It Be You?," with period panache. Valerie Lynn Williams doesn't get that much to do as Chiquita (an affliction that often plagued Merman's female co-stars), but she's amusingly full of herself and a hoot lapsing into pidgin French in "By the Mississinewah," a performance number that has Blossom and Chiquita cavorting as an Indian chief's two sex-starved wives. Erin Elizabeth Coors simpers and smolders well as Melanie, and Jody Cook stands out in the low-comedy role of a Texas good ol' boy named Twitch, whose connection to the proceedings is, even by the standards of a slapdash vehicle such as this, remarkably tangential.
Act 2 is surprisingly skimpy on the music, but that's because it originally contained some lavish Jack Cole ensemble dances that Musicals Tonight! couldn't even hope to suggest with its limited resources. No matter. The goal here is to convey the essence of the show. In the case of "Something for the Boys," mission admirably accomplished.
Presented by Musicals Tonight! at the Lion Theatre, 410 W. 42nd St., NYC. May 1–13. Tue.–Sat., 7:30 p.m.; Wed., Fri., and Sun., 2 p.m. (212) 239-6200, (800) 432-7250, or www.telecharge.com. Casting by Holly Buczek.