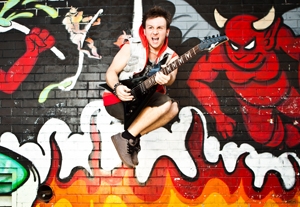 It seems like rock musicals inspired by Biblical tales are a dime a dozen on Broadway these days, but don't expect to recognize any scripture in "Stand Tall." A very loose retelling of the story of David and Goliath, the production, part of the New York Musical Theatre Festival, shrinks the epic story down to the playground level, turning it into a bullying parable that is overly simplistic and emotionally immature.
Adapted from the original British production, "Stand Tall" takes substantial liberties with the source material. David (Bryan Welnicki) is now a wannabe rock star in love with Mia (Jill Shackner), the daughter of King Saul (Jef Canter). Rather than fighting the Philistine giant, David is harassed by Goliath (Gerard Canonico), a spiky-haired delinquent still smarting after being booted from David's band. But Goliath is only one of David's problems. In this telling, Saul is also the bad guy, who must be overthrown by the only man capable of wielding the Holy Guitar of Destiny.
It sounds like the campiness quotient should be high, but "Stand Tall" takes itself surprisingly seriously, attempting to convey important messages about bullying and self-confidence. This conflict between content and tone is especially obvious in Welnicki and Shackner's performances, which are earnest to the point of naiveté. When told that David is the Chosen One, Mia responds, "Well, that's great news!" With a clear-as-a-bell voice that seems made for the pop charts, Shackner plays the ingénue so sincerely that her performance misses the absurdities of the script.
"Stand Tall" is the first musical from Lee Wyatt-Buchan (book, music, and lyrics) and Sandy and Aldie Chalmers (lyrics and music). All are experienced musicians with no previous theater background, which helps explain why listening to the first few tunes is like tuning in to your local Top 40 station. Music is front and center in this production in a literal sense; the immensely talented four-piece band is onstage throughout the show, doubling as David's backup players. While they often start out with a propelling beat and a catchy hook, the songs are almost uniformly repetitive, both harmonically and lyrically. It might pass on the radio, but it's a striking blow here, where musical development signals character development. Without it, the emotional dial never changes.
Equally uninventive is the staging by Simon Greiff. Especially when half-filled with instruments, the 45th Street Theatre's small stage poses a challenge, but despite the close quarters the cast rarely engages with the musicians, and dancing is almost nonexistent. Instead, characters parade in from the wings, deliver their lines, and head back the way they came. The set and lighting (by Julia C. Lee and KJ Hardy, respectively) add some much-needed visual interest, worthy of a rock show.
But the brightest spot in "Stand Tall" is Trista Dollison, playing David's divine guide, Black Sheep. Vamping and shimmying around the stage, Dollison's exaggerated playfulness nearly goes too far, but it's a refreshing change to finally watch someone who's in on the production's jokes. Every time she sings, the energy in the room jumps up 100 watts, a testament to the fact that a single performer can enliven a show. It's a Goliath of a task, but it can be done.
Presented by Shrill Productions as part of the New York Musical Theatre Festival at the 45th Street Theater, 354 W. 45th St., NYC.  July 19–29. Remaining performances: Wed., July 25, 5 p.m.; Fri., July 27, 8 p.m.; Sunday, July 29, 1 p.m. (212) 352-3101, (866) 811-4111, or www.nymf.org.