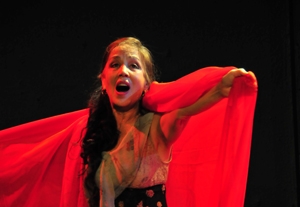 If you are patient, don't jump to judgment too quickly, and can tolerate theater as a form of psychotherapy, you may really like the one-woman show "Stella Rising." Written and performed by jazz vocalist Napua Davoy, the evening begins strangely. From a pitch-black stage we hear the sound of a deep, manly voice singing a sad song to delicately sensual piano accompaniment. When the lights finally come up we see that the performer is a slender middle-aged woman with the long curly brown tresses of a teenager who's wearing a frumpy, off-the-shoulder dressy dress that was probably sitting in a thrift shop for the last 50 years.
As Davoy commences to tell us her life story we are introduced to her Hawaiian-Chinese mother, Stella, and her Oklahoma redneck father, who met when they were stationed in Japan in 1947. The couple returned stateside, settled in Texas, had five kids, grew disgusted with one another, and created the disturbingly dysfunctional household in which Davoy was raised.
Davoy is an exquisitely expressive singer with an enormous range, yet she relates much of her story through prosaic text delivered with exaggerated intensity. She is not an adept enough actor to convincingly impersonate the sundry characters who populate her personal narrative. Nevertheless, the show becomes enthralling when Davoy's tale starts to touch on larger cultural issues of the times, such as the racism that surrounds her encounter with a young black soldier at boot camp in Louisiana. The more Davoy reveals about herself, the more impressed we become with her accomplishments and the more we want to hear about her career and her siblings.
However, "Stella Rising" is not meant to present a full, contextualized autobiography; it serves instead as a therapeutic exercise, in which the performer works through issues that have plagued her relationship with her mother. She does so with an earnestness that sometimes captivates, especially when she sits at the piano or grabs a guitar to accompany her singing of the gorgeous jazz songs she has composed to make up the show's eloquent score (which also includes musical contributions from Andrei Kondakov and Tom Paxton). Davoy punctuates her performance with big, expressive body movements, undoubtedly contributed by the show's director, Tony-nominated dancer Karine Plantadit, in her helming debut.       
Davoy's strong suit is her musical talent, which this theatrical production seems to hinder. The songs are truncated, as she often rushes back to her storytelling after singing what feels like only a fragment of a song. Considering its precious intimacy, might not Davoy's story be better presented as an evening of cabaret rather than as a musical play?
Presented by Pan Asian Repertory Theatre at the West End Theater, 263 W. 86th St., NYC. March 8–17. Mon., Wed.–Sat., 7:30 p.m.; Sun., 3 p.m. (212) 352-3101, (866) 811-4111, www.theatermania.com, or www.panasianrep.org.