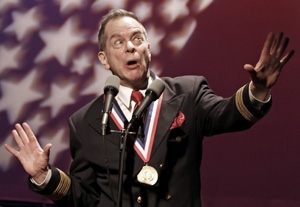 Queer is in at "Summer Shorts 2012: Series B," and, while saying that audiences will have a gay old time with this trio of plays might be overly effusive, the works prove to be a beguiling enough way to spend 95 minutes in the theater.
Paul Rudnick's monologue "Cabin Pressure"—performed by Peter Bartlett and gently directed by Walter Bobbie—gets the show rolling marvelously. Bartlett plays a flight attendant who is being honored for his valor in the sky: He stopped a terrorist from blowing up a plane en route from New York to L.A. on the eve of the Golden Globes, saving a flight of celebs. It's an amusing conceit, and Rudnick's loopy, almost stream-of-consciousness writing for this kindhearted, slightly dizzy character is beautifully calibrated, blending satire and absurdism with ease.
Bartlett, a frequent interpreter of Rudnick's work, delivers the piece with amiable flair and even manages to find just the right amount of darkness in Ronald, whose icon is, hysterically, Karen Black, in her days as the star of such disaster films as "Airport 1975."
The short musical "Love and Real Estate"—a contemporary human variation on "The Three Little Pigs"—doesn't reveal its gay theme until late in the game, in a few obscure twists. With music by Sam Davis and book and lyrics by Sean Hartley, the show imagines three wealthy sisters as they attempt to establish themselves in Manhattan and the charming, wolfish young man who seduces them into cohabitation.
It's a clever conceit that's supported beautifully by Davis' music, which embraces a gamut of styles, from soft pop to opera buffa. The performers, directed by Devanand Janki, dive into the material with aplomb, particularly Edward Hibbert as the fey—and meddlesome—narrator, and Sarah Corey as the sexually liberated sister. Ultimately, though, Hartley's book strains as Charlotte (the always solid Stephanie D'Abruzzo), the conservative sister, confronts and battles the smooth operator (an engaging Kevin Greene) who has been preying on her siblings.
"The Furies," Neil LaBute's darkly comic look at the awkward breakup of Barry (Victor Slezak) and his younger lover Jimmy (J.J. Kandel), caps the evening to mixed effect. The playwright sets up a provocative situation as Jimmy, accompanied by his sister Jamie (Alicia Goranson), meets Barry at a restaurant. The older man is hoping for a graceful exit, but Jamie's silent glares and the suspicious and accusatory interrogatories she whispers to her brother make any sort of amicable parting impossible.
Directed by Stephen Hamilton, the performers navigate the play's humor and taut dynamics with grace, but they can't overcome its inherent flaw: Like Barry, we become exasperated with Jamie's interjections. And while the mythological reference of LaBute's title seems to indicate that Jamie may be imaginary, the script is too literal to support such a concept. By the time Barry has revealed his reasons for leaving Jimmy, it's impossible to care for either man or the outcome of their final meeting.
Presented by Throughline Artists at 59E59 Theaters, 59 E. 59th St., NYC. Aug. 8–Sept. 1. Schedule varies. (212) 279-4200 or www.ticketcentral.com. Casting by Billy Hopkins.