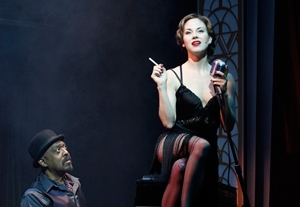 Early on in "The City Club," Chaz Davenport (Andrew Pandaleon), the goodhearted mug who owns the show's titular nightspot, announces rather pretentiously, "All that matters is the music." Truer words could not be used to describe this production, which is basically a concert with a host of terrific period pastiches (music and lyrics by James Compton, Tony de Meur, and Tim Brown) that have been draped around an unconvincing noir potboiler from book writer Glenn M Stewart.
Chaz has opened his club in "the City," a generically conceived metropolis where corruption is rampant, thanks to the stranglehold his family and some much-talked-about "committee" have had on it for generations. Chaz believes that by creating a jazz club where everything's aboveboard, he'll be able to atone for his clan's past wrongdoing and make the City a better place to live.
His ideals, however, are slowly eroded once he joins forces with Lieutenant (the clean-shaven but mustache-twirling Peter Bradbury), a character whose relationship to the law and government is never completely explained, but whose determination to undermine the club is indisputable. As soon as Chaz has made this guy his silent partner, a bit of blackmail against Governor (Robert J. Townsend) brings gambling in. Further complicating matters is Maddy (the sweetly kittenish Ana Hoffman), the singer whom Lieutenant employs to sideline Crystal (Kristen Martin), the place's star and Chaz's one-time girlfriend, who hails, we are told repeatedly but for no particular reason, from the wrong side of the tracks.
Most of this plot is communicated in short bursts of cliché-ridden dialogue sandwiched among a bevy of musical numbers. The hourlong first act alone brims with a baker's dozen of songs, leaving no room for any nuance in character development or storytelling. It's a problem that is enhanced by the fact that the songwriters have penned only a few traditional book songs, preferring to fill the piece with tunes that comment on the action or simply create mood.
Thus, theatergoers will find themselves confounded by Stewart's muddled conception of this oasis of goodness (brought to life with flair by scenic designer Rob Bissinger) and by how completely blind he makes his main character to the realities around him. Chaz barely notices that the place's bartender, Doc (Patrick O'Neill), peddles drugs to the performers and that a death results from their rampant use. He is even pretty nonchalant about a murder he witnesses and then helps to cover up.
Director Mitchell Maxwell keeps the action moving swiftly, and the songs—a mixture of blues, boogie-woogie, and jazz—are almost always sizzling, thanks to a swell five-piece ensemble, the performers' fine voices, and some winning choreography by Lorin Latarro. Ultimately, "The City Club" might make a terrific revue in some retro supper club.
Presented by Glenn M Stewart, Mitchell Maxwell, and Carol Castelli at the Minetta Lane Theatre, 18 Minetta Lane, NYC. Opened April 23 for an open run. Tue., 7 p.m.; Wed.–Fri., 8 p.m.; Sat., 3 and 8 p.m.; Sun., 3 and 7:30 p.m. (877) 250-2929 or www.ticketmaster.com. Casting by Michael Cassara.