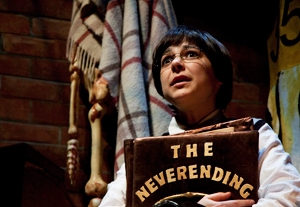 Here's the biggest problem with David S. Craig's adaptation of Michael Ende's "The Neverending Story," a beloved children's novel that was turned into a beloved if kind of crummy children's movie: Despite pretentions to bookishness, it spends most of its 80-minute running time desperately wishing it had less to do with the book.
This Canadian production, from Roseneath Theater, gives top billing to Adamo Ruggiero, who worked on "Degrassi: The Next Generation," but the star of the show is really Natasha Greenblatt as Bastian Balthazar Bux, a bullied little boy who finds himself literally sucked into his favorite fantasy novel. Greenblatt's Bastian isn't precocious or cutesy. He's a very sad little boy, and it's easy to sympathize with him as he dodges brawny classmates and steals away to his school's attic to read. It's quite difficult to pull off the adult-woman-as-young-boy trick, and it's rarely done well despite the number of actors who are called on to try it. Greenblatt pulls it off.
Ruggiero carries most of the fantasy-story-within-a-play's narrative as Atreyu, the hero asked to save Fantastica from the encroaching Nothing that eats its way into the magical kingdom from its borders. It's a terrifying device, and it's one of the few things that works with the way Craig (who also directs) has scaled the production. There aren't enough actors or set to justify the use of the enormous space at NYU Skirball Center, but without all that space the effect wouldn't be as successful as it is when pulsating black curtains burst out of the background to devour beloved characters.
Ende visited themes of decay and entropy in more than one of his beautifully crafted novels, but it wasn't the only thing he did. Again and again he dealt with the problem of selfishness, even with sympathetic characters. When in the book Bastian refuses to return home at the appointed time, we get some of the best, weirdest writing in children's fiction this side of "The Last Battle," and it's too bad that Craig cut that vital part out of this production. Instead, there's a quick, pat ending, and while the kids in the audience seemed to enjoy it (going to the theater with kids is always a kick—one little girl was quick to point out all the parts that weren't in the 1984 film), it's a shame that Craig wasn't looking to use Ende's complexities as well as his name.

Presented by Roseneath Theater at NYU Skirball Center for the Performing Arts, 566 LaGuardia Place, NYC. March 22–25. Thu.–Sun., 7 p.m.; Sat. and Sun., 2 p.m. (212) 352-3101, (866) 811-4111, www.theatermania.com, or www.nyuskirball.org.