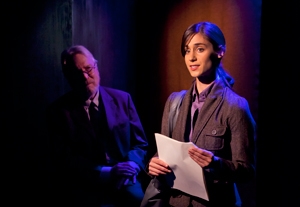 Subjective reality versus fact and tangible evidence in the documentation of the Holocaust is the thorny issue explored with intelligence and depth—if not great storytelling punch—by Jeff Cohen in his drama "The Soap Myth." The plot turns on the long-lived argument that the Nazis used fat from the corpses of their Jewish victims to manufacture soap and the passionate campaign by one Holocaust survivor, Milton Saltzman, to get historians at the various Holocaust museums to accept the story as truth and reintroduce it into their exhibits. While the museums for years did include the claim, the play tells us that it was removed after the determination that supporting evidence wasn't substantive enough. For Saltzman, though, the tale has haunted his life, and he needs it to be validated and shared with the world. For their part, the historians counter that to include even one element that's suspect opens the door to endless attacks by Holocaust deniers.
A young reporter, Annie Blumberg, assigned to do an article about Saltzman, narrates the play. We are shown her meetings with him as well as her interviews with historians and museum curators. She also interviews an anti-Semitic historian, who while not denying the Holocaust suggests that the Jews themselves were responsible and the numbers grossly exaggerated. Finally, Blumberg convinces Saltzman that although the museums won't accept the story as fact, he can do an interview on tape telling of his time in the camps and the horrifying effects of the soap story.
The whys and wherefores of the theme are compelling, and Cohen has his characters detail them gingerly if sometimes repetitiously. However, the play often seems more like an interesting lecture than a full-bodied drama. While the script makes a nod to the developing friendship of Saltzman and Blumberg, we learn little or nothing about them beyond their immersion in the enigma of the soap charge. Well-wrought performances by Greg Mullavey, as Saltzman, and Andi Potamkin, as Blumberg, at times lend the  proceedings an emotional validity, and Mullavey's final monologue, about Saltzman's time in the camps, is especially moving. But primarily it's the subject matter that involves us, not the characters.
Rounding out the cast in multiple roles are Dee Pelletier and Donald Corren, who deliver sharply defined portrayals of a number of historians and others. Director Arnold Mittelman has staged things efficiently on Heather Wolensky's businesslike set, which, befitting the play, has the look of a lecture platform.
Presented by National Jewish Theater at the Black Box Theatre, 111 W. 46th St., NYC. Schedule varies. (212) 352-3101, (866) 811-4111, www.theatermania.com, or www.nationaljewishtheater.com. Casting by Cindi Rush Casting.