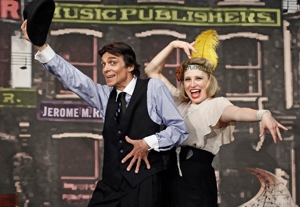 "Tin Pan Alley," the new revue currently running at the Actors Temple Theatre, is made up of 40 songs written between 1891 and 1936, roughly the period colloquially known as the Tin Pan Alley era of American songwriting. Characterized by sentimental ballads, jazz-tinged dance tunes, silly novelty numbers, and patriotic marches and laments, the songs grouped under that umbrella reflect the vitality and naiveté of a young country exploding into modernity. Unfortunately, there is precious little vitality or modernity in Gene Castle's revue, which resembles "The Lawrence Welk Show" more than a contemporary work of musical theater.
Castle, who functions as conceiver, director, choreographer, and performer, divides "Tin Pan Alley" into 10 sections, including a prologue and a finale. Some are geographical ("Tony Pastor's Music Hall"), some are historical ("The Great War"), and some are artistic ("Ziegfeld Follies"). This is the only organizing factor in the show, and it would have been an interesting one if Castle had explained to us what the sections mean and how they relate to each other. As it is, the show evidences no point of view and functions primarily like a musical photograph album.
Castle is at his best as choreographer and hoofer, where his considerable tap-dancing knowledge and ability are evident. In contrast, his direction is no more sophisticated than "Smile when you sing." The other three cast members acquit themselves as best they can. Brad Bradley proves himself a capable song-and-dance man with his vibrant "Yankee Doodle Dandy." Loni Ackerman may or may not deliver an accurate imitation of Fannie Brice in "Second Hand Rose"—though I sat among many audience members old enough to know—but she gets the song across with panache and in so doing honors her vaudeville forebear. Karla Shook offers a smoldering "You Made Me Love You." I won't be surprised to see her on a larger stage soon.
Ben Rauch accompanies on piano and solos on "The Entertainer" and "The Maple Leaf Rag." Josh Iacovelli's set is a bare stage in front of a blown-up photograph of a section of the real Tin Pan Alley, a stretch of 28th Street between Fifth and Sixth avenues. Rosemary Ponzo and Dustin Cross' costumes consist mainly of clever changes of headgear.
Pentimento is the phenomenon in which lines from an older painting bleed through the surface of a more recent one. As the cast of "Tin Pan Alley" sings and dances, one can catch the dim outlines of a once-vital American style of writing and performing. But for me it's a vision freighted with melancholy, because the ebullience and intelligence of the original makes a sad contrast with its moribund descendant.

Presented by Edmund Gaynes, in association with David Gersten, at the Actors Temple Theatre, 339 W. 47th St., NYC. Opened March 19 for an open run. Mon., 7 p.m.; Sat. and Sun., 2 p.m. (212) 239-2300, (800) 432-7250, or www.telecharge.com.