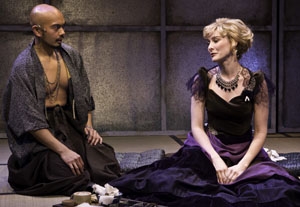 If seriousness of purpose and lofty ambitions were enough to guarantee success in the musical theater, then Eric Shorr's "Tokio Confidential" would be a gem. Unfortunately, Shorr's artistic reach falls considerably short of his grasp in this thinly written, musically derivative, and ultimately dramatically preposterous work. Despite a spare but stylish production and the efforts of a talented cast and director, this arid show goes nowhere and takes its time in doing it.
Told in flashback by the ghost of American Civil War widow Isabella Archer, the musical details her experiences in Japan, beginning with her arrival in 1879. The man who was to have sponsored her, the former employer of her late American husband, Ralph, has died, and she instead gains the sponsorship of Ernest Osmond, an American art historian working in Japan as the emperor's commissioner of fine arts. Brought to teach the Japanese about Western art, Ernest has taken to imploring them to value and maintain their own artistic traditions.
A knowledgeable and cultured woman, Isabella becomes enamored of Eastern art, particularly a stunning tattoo she sees on the back of a coolie. Ernest takes her to visit Horiyoshi, Japan's finest tattoo artist, who has been prevented from plying his trade by the emperor's edict in a Japan frantically trying to Westernize. It is not forbidden to tattoo foreigners, however, and the fascinated Isabella decides to get one on her back. The process is long and painful, but she undergoes it, along the way beginning an affair with the tempestuous Horiyoshi, much to the dismay of his live-in lover Sachiko. It turns out that Ernest has his own interest in Isabella's tattoo and has hatched a plan with his gay lover, Akira, to sedate Isabella, remove her skin—killing her in the process, of course—and take it to Boston to hang in a museum. Will all Boston be agog? Stay tuned.
Shorr's script and lyrics are written in a stilted, starchy English that seems meant to evoke the formality of Japanese art and culture. What it does instead, aside from sounding awfully self-conscious, is flatten any sense of character. Even Ulysses S. Grant ludicrously employs it in an entirely unnecessary cameo appearance. There is very little dramatic action in the attenuated story until the unpersuasive melodramatics of the conclusion, just as there is little variance in Shorr's music. Harmonically unadventurous and melodically rambling, it levels emotions rather then heightening them. (There is also a melodic section in the bridge for "Are You Prepared for That?" that quotes from the verse to Stephen Sondheim's "Finishing the Hat" but is nevertheless flogged repeatedly as one of the score's major themes.)
Jill Paice sings prettily and looks elegant in Jacob A. Climer's lovely costumes, but she can't do much to give substance to Isabella, whose decision to get the tattoo, something that would shock her social peers at home, is made with such ridiculous easiness that it's impossible to accept. Jeff Kready plays Ernest on a single note of courtly reserve, which he can't quite convincingly broaden into unhinged obsession when required. Mel Sagrado Maghuyop smolders and glowers suitably as the arrogant Horiyoshi, injecting a welcome dash of sex appeal. Austin Ku and Manna Nichols emphasize a watchful wariness as Akira and Sachiko, who fear losing their respective lovers. Poor Benjamin McHugh has little to do as the ghostly Ralph but wander about singing occasionally and looking handsome, and Mike O'Carroll is a terribly couth Grant.
Director Johanna McKeon and choreographer Tricia Brouk provide a polished staging, but that can't ameliorate the show's dramaturgical failings, particularly the ludicrous ending, which answers the question used as a tagline on the program cover: "Are you willing to risk your life to become a work of art?" The fact that the show itself doesn't pose that question only serves as an indication of how misguided "Tokio Confidential" is.
Presented by Scandal Productions, through the sponsorship of the Field, at Atlantic Theater Stage 2, 330 W. 16th St., NYC. Feb. 11–19. Wed.–Sat., 8 p.m.; Sun., 3 p.m. (212) 279-4200 or www.ticketcentral.com. Casting by Judy Bowman.