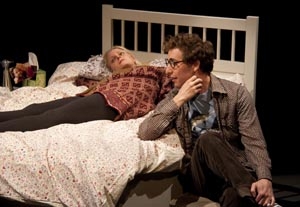 Nick Starr's new play "One Thousand Blinks" has a mixed-breed pedigree. It's part sci-fi fantasy, part moral fable, part contemporary romance with S&M overtones, part social satire of productivity in a totalitarian state, part examination of dreams versus reality, and part horror story. And all this in just 85 minutes. Starr cannot be accused of lacking imagination, and in the play's early stages he sets up an intriguing puzzle. But this intrigue soon wears thin as it becomes apparent that Starr is unsure of the kind of play he would like to write. The characters get pulled this way and that like so many puppets. Without giving too much of the plot away, at the final curtain only half of the cast is left standing, and you don't really care which half it is.
Underachiever Morgan (Mark Cajigao) leaves America to take up a job teaching English in an unspecified foreign country (that lack of specificity is an early red flag). He has left behind his girlfriend Jenny (Estelle Bajou), who consistently suffers from bad dreams about attack dogs.
Morgan is met by his new employer, Dr. Luk (Rachel Cornish), and is told that the class he was to teach has been injured in an accident. He must now instead translate an obscure medical text written in a language that has no alphabet (another red flag). Dr. Luk doesn't believe in sleep and so gives Morgan a small lamp that emits a strange light (cue the title) that seems to provide a special energy. Soon Morgan is working day and night, but Dr. Luk is never quite satisfied with the translation.
Through all this Morgan is in steady phone contact with Jenny and hearing about her nightmares. She is visited by former boyfriend Bram (Drew Hirshfield), who presents her with an identical lamp. (Bram seems to have some odd connection to Dr. Luk, even though she lives in the unspecified country.) The girl Bram is seeking, and the one he wants to sleep with, is the dreaming Jenny, given the name of J.R. The next time we see Bram, we casually note that half his face has been gouged away. Morgan by this time is slowly realizing—he's the hero, but he's really not too bright for an English major—that perhaps Dr. Luk has made him a prisoner. Enough already.
While the press release calls the play a "sci-fi thriller," here's a passing thought: Maybe Starr means this as an absurdist fable about overachieving and sleep deprivation. But no, that's only half of this mongrel tale. Certainly Malinda Sorci directs as if she knows what it's all about, and the game actors give their best efforts to the shenanigans. Only Cornish, however, is able to provide some stylization to her character, making her an appealing villain.
For a play all about the importance of staying awake, it was noted that a few audience members gave up the struggle and sought comfort in restorative sleep.
Presented by the Nest at 59E59 Theaters, 59 E. 59th St., NYC. Jan. 17–29. Tue.–Thu., 7:30 p.m.; Fri. and Sat., 8:30 p.m.; Sun., 3:30 p.m. (212) 279-4200 or www.ticketcentral.com.