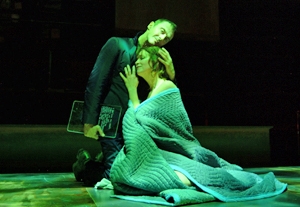 Of the three pillars of Western literature—Shakespeare, the Greek myths, and the Bible—Theatre for a New Audience has been devoted to the first. Having proved itself with last season's "Hamlet" and "Othello," it now dives into the Greeks, guided by the daring hand of writer-composer-lyricist-performer Rinde Eckert, whose "And God Created Great Whales" some seasons ago remains in the memory. His "Orpheus X" gives the familiar, oft-told Orpheus and Eurydice myth a contemporaneity—nudity, rock music, androgyny, and a slap at a chaotic world—not only reinventing the story for our time but pushing it in ways that render it fit for exegesis.
Unlike in the original tale, where Eurydice dies while fleeing the advances of a beekeeper named Aristaeus, Eckert's heroine is killed by a very modern taxi. By coincidence, Orpheus is the cab's occupant. Cradled in his arms, the dying woman, recognizing him as a rock star, utters her last line: "Oh, it's you, how strange." The event so unnerves him that he can think of nothing else and fantasizes having a normal life with the woman, with whom he believes he's fallen in love. Putting his career on hold, to the distress of his manager, Orpheus journeys to the Underworld, where Eurydice, who was a lyrical poet in her lifetime, is learning to let go of the world of the living, having had everything taken from her. "When you die," she sings, "They take your pens/They give you chalk," which, says Queen of Hades Persephone, is "just organized dust," a metaphor for the ebbing of Eurydice's life and work. With the chalk she continues to write, filling walls with vaguely Greek letters. In the traditional ending, Orpheus is admonished not to look at Eurydice as he takes her back to earth. Here the tables are turned, as Eurydice chooses to stay where her poems will remain ever fresh. Thus, art wins out over life, the dedicated over the celebrated, who are "addicted to splendor and novelty."
Director Robert Woodruff's fluid, complex production uses streaming video by Denise Marika, a live four-piece band, and Marika and David Zinn's industrial set of huge I-beams to tell its stunning tale. Eckert is an overpowering Orpheus, an aging, obsessed rock star who once "charmed the rocks and the trees" but has given in to life's chaos. As sung and portrayed by Suzan Hanson, Eurydice is both ripe and arresting, while John Kelly doubles as a cool manager and an eerie Persephone. Combining myth, evocative lyrics, and a driving score, Eckert has created a bleak theatrical piece.

Presented by Theatre for a New Audience at the Duke on 42nd Street, 229 W. 42nd St., NYC. Dec. 3–20. Tue.–Sat., 8 p.m.; Wed. and Sat., 2 p.m.; Sun., 3 p.m. (Additional performance Sun., Dec. 6, 7 p.m.) (646) 223-3010 or www.new42.org. Casting for Theatre for a New Audience by Deborah Brown.