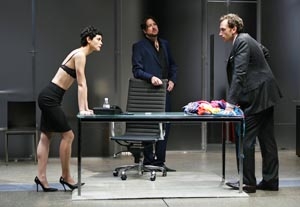 "Television is stupid." Well, duh! That seems to be the big message of
Our House
, Theresa Rebeck's slipshod satire on modern media. There are certainly plenty of deserving targets, and Rebeck has experience on the tube, including writing and producing for
Law & Order
:
Criminal Intent
and
NYPD Blue
, but in this confused and confusing work, her darts miss the mark by a mile.
The setup is an obvious lampoon of the relationship of CBS president and CEO Les Moonves and his wife, CBS News reporter Julie Chen, whose status as a serious journalist was called into question when she started hosting the reality show
Big Brother
—a situation Rebeck uses to examine the blurring line between TV news and entertainment. A worthy topic and a fair-enough starting point, but Rebeck soon loses her way, going so far over the top that the play resembles an overlong comedy sketch rather than a seriously funny critique of modern American culture. Paddy Chayefsky handled the same theme with much greater dexterity in the film
Network
more than 30 years ago. We are now living in the funhouse world envisioned by Chayefsky, whose mad-prophet newsman told us all to get as mad as hell (Glenn Beck, anyone?), and Rebeck's comic takeoff comes across as silly slapstick.
The Moonves stand-in, named Wes (instead of Les, get it?), is a tyrannical maniac, played by Christopher Evan Welch like Ted Baxter on speed—stupid and dangerous. The Chen figure is embodied by Morena Baccarin as a screaming diva. Together they bedevil the principled head of the news division (Stephen Kunken) with demands for more blood, action, or stories on tropical fish—whatever it takes to drive up the ratings.
Between these scenes there's a parallel story featuring four St. Louis housemates whose petty bickering resembles that on any number of reality shows. The two plot lines converge at the end of Act 1 in an act of senseless violence, and as we head into Act 2, Rebeck totally loses any grip on credibility. Even in wild comedy, the characters must be consistent and believable on their own terms. Yet in this semirealistic world, it doesn't make sense that Wes would not be aware of FCC rules or that Merv, one of the housemates, could be a TV-obsessed moron in Act 1 and a coherent philosopher in Act 2. Michael Mayer's direction is equally off-kilter—naturalistic one minute, cuckoo-crazy the next.
The cast does its best to maintain a through-line for the cartoon characters. Katie Kreisler emerges the least unscathed as Alice, a member of the dysfunctional Missouri household. Her intentions are clearly executed as she complains about Merv's endless TV watching, her missing yogurt, and the lateness of the rent checks. She is the most real figure in this failed satire of reality TV.
Derek McLane's set and Susan Hilferty's costumes subtly depict the two worlds of corporate broadcasting and everyday mid-America. The playwright should have taken a page from her designers' sketchbooks.
Presented by and at Playwrights Horizons
,
416 W. 42nd St
.,
NYC
.
June 9
–
21. Tue
.–
Fri
.,
8 p.m
.;
Sat
.,
2:30 and 8 p.m
.;
Sun
.,
2:30 and 7:30 p.m
.
(
212
)
279-4200 or www.ticketcentral.com
.
Casting by Alaine Alldaffer
.