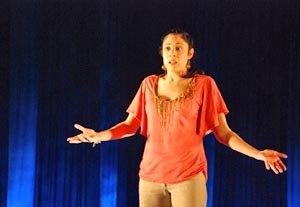 "Until Sept. 11, 2001, if you asked anyone to spend five minutes with me and try to guess my background, they'd tell you I was a Jew," says actor-playwright Najla Saïd at the opening of her one-person stage memoir, "Palestine," introducing the audience to the contradictions of her ethnicity. The daughter of a Palestinian father—the renowned scholar and author Edward Saïd—and a Lebanese mother, Saïd grew up in New York City. Raised as a Christian, she spent her early girlhood at a WASPy private school on the Upper East Side and her high school years at an Upper West Side academy with mostly Jewish students. She felt like an outsider at the former and more at home at the latter, visiting classmates' families and picking up Yiddish expressions. But trips to her parents' homelands and the events of Sept. 11 caused her to re-examine her identity. That cultural journey makes up the bulk of the play, a fascinating examination of politics, perceptions, and prejudice.
Thanks to Saïd's deeply felt performance and the economic direction of Sturgis Warner, the tiny stage of the 4th Street Theatre becomes many locations in the volatile Middle East as the actor recounts accompanying her parents on their homecoming voyages. Her famous father, an expert on the explosive conflict often interviewed by the American media, is the center of attention as they pay a call on Yasser Arafat, tour a former prison in what was Israeli-occupied Lebanon, and connect with relatives who are so accustomed to explosions that they can tell what kind of bomb is being dropped and how far away it is. ("If you can hear the plane, you're safe.") She captures the dual perception of a whiny teenager being unwillingly dragged to hot, dusty combat zones and her adult self reflecting on the meaning of the suffering she has seen. Saïd wisely avoids too many impersonations of the international characters she encounters. The focus is rightly on her personal evolution and not on her skills as a mimic.
Her reactions to Sept. 11 and the 2006 Lebanon-Israel war are the most affecting. She re-creates the horror of being under attack in both the city she considers home (New York) and the land of her family (Lebanon) with terrifying detail and puts both events in perspective.
My only quibble is that the show is a tad long at one hour and 40 minutes without intermission. With some judicious trimming, this insightful piece would have even more of an impact.
Presented by Twilight Theatre Company in association with New York Theatre Workshop at the 4th Street Theatre, 83 E. Fourth St., NYC. Feb. 17–April 3. Tue.–Sat., 7:30 p.m.; Sun., 4 p.m. (212) 868-4444 or www.smarttix.com.