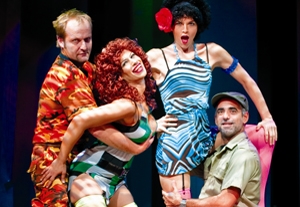 Who knew the Peruvian army had so much fun? In Verónica Triana and Jorge Alí Triana's rendering of the Peruvian novel "Pantaleón y las Visitadoras," difficult issues of duty, fidelity, and human nature are joyfully presented in raucous, sexually charged musical numbers and entertainingly lowbrow comedy.
Based on the novel by celebrated author Mario Vargas Llosa, "Pantaleón" tracks the eponymous captain to the jungles of the Amazon, where long, celibate postings have started getting to the men in Peru's army: Too many local girls have turned up raped and pregnant. Enter Pantaleón, assigned by the brass to administer a new "special service" that utilizes girls from a nearby city's bustling red-light district to keep the military boys satisfied. This shrewd solution affords the ladies the safety of government employment while letting the soldiers work off their frustrations in a healthy, state-sponsored way. How's that for a public option? But the story's innocent sexuality darkens when the strait-laced, happily married Pantaleón falls for and commences boinking a particularly striking streetwalker code-named the Brazilian.
The use of the term "boinking" may seem less than adroit, but it adequately captures the bewildered morality of the piece. Pantaleón loves his pregnant wife deeply, yet his affair is played almost entirely for laughs. But director Jorge Alí Triana's production—in Spanish with live English translation—would rather we not concern ourselves with such circumstances. Whenever things get too grim, there is always a high-spirited musical number by Andrés Cabas to be had, featuring the swift, clockwork choreography of Sunilda Caraballo. That the show leans on its own exuberance to avoid its sometimes scatterbrained ethics is usually more charming than irritating.
Anthony Álvarez's chiseled features and stern comportment are nicely in sync with the humorless Pantaleón, and the alluring Denise Quiñones embodies the Brazilian with tremendous charisma.
Presented by Repertorio Español at the Gramercy Arts Theater, 138 E. 27th St., NYC. Oct. 19–Dec. 26. Schedule varies. (212) 225-9920 or www.repertorio.org.