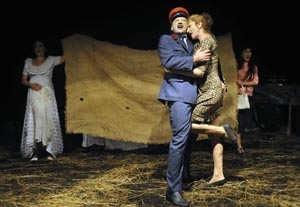 Alongside the more grandiose offerings at Lincoln Center Festival 09, Béla Pintér and Company's "Peasant Opera" requires an intimate staging. How else to smell the lettuce leaves being plucked by its agrarian peasant characters, to smell the incense of the candles they burn—or, for that matter, to watch actor Éva Enyedi roll her eyes as she executes a folk dance? This mix of the earnest and the ironic exemplifies "Peasant Opera," which combines baroque recitative with Transylvanian folk music, Brechtian self-awareness with melodramatic sentimentality, and virtuosity with amateurism to lovingly revisit a Hungarian folk past that is as mythic as it is seductive.
The plot involves a young couple, already pregnant with their first child, whose wedding is interrupted by a series of revelations that ruin their chances for happiness. Played out on a wide stage covered with hay, with a giant wooden wagon occupying center stage, accompanied by a five-piece orchestra (all stringed instruments, including a harpsichord, with musicians dressed in monkish black costumes), the show's effect is to embody a stereotype so fully as to undermine it. The actors, none of whom are mesmerizing singers or dancers, have their faces caked in grayish mud and employ stilted movements and tableaux to interrupt the story, like statues whose transformation to flesh and voice is not quite complete. The real genius of Pintér, who not only wrote and directed but also plays the bridegroom, is to carefully manage when the audience follows the story and when it focuses on the execution, so we never lose sight of the formal satire but can still get swept up in the ever-intensifying narrative. The creators of less generous American "anti-musicals" like
Urinetown
and
Xanadu
could take some lessons from Pintér and Co.
The company first produced the show in Hungary in 2002. Though Pintér has since become interested in forms other than pastiche folk opera, "Peasant Opera" remains his most well-known and beloved work. It is a privilege, then, to see the company re-create its sophisticated, multilayered, and yet delightfully unpretentious little opera for a New York audience.
Presented by Lincoln Center Festival 09at the Clark Studio Theater, Rose Building, 165 W. 65th St
.,
7th floor, NYC
.
July 21
–
26. Tue
.–
Sat
.,
8:30 p.m
.;
Sun
.,
3 p.m
.
(
212
)
721-6500 or www.lincolncenter.org
.