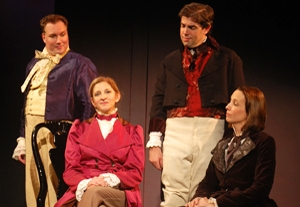 The characters' names are more reminiscent of the Restoration comedies of Richard Brinsley Sheridan: Hapless Penniworth, Miss Havasnort, Rupert Stryfe, Malodorous Dump, Mr. Pinchnose, the solicitors Bunting, Bunting and Swag, et al. But the source material for the 70-minute send-up "Penny Penniworth" is largely mid-Victorian English lit, and the comedic result is priceless. Four actors of astonishing versatility create multiple cross-dressing characters in Chris Weikel's knowing and laugh-out-loud play, directed briskly (the only way to do it) by Mark Finley.
Charles Dickens inspires the bulk of the plot and the sentimentality to skewer, with an occasional assist from two of the three Brontë sisters and others. The House of Goody's on-the-nose 19th-century costumes, with their breakaway wraparounds for lightning-quick costume changes, keep the audience rooted in the supposed period while providing anachronistic commentary. 
Presented as a lost Dickens work, "Penny Penniworth" liberally samples "Oliver Twist" and "Great Expectations" in its tale of the title child, who has lost her father and means of support and is saved in the end by a secret benefactor and a beneficent secret. As Penny, Jamie Heinlein nicely conveys waiflike fragility combined with Dickensian pluck, while she neatly doubles as the presumably male Malodorous Dump, a poison dwarf with a Cockney accent. 
All four of the actors play multiple roles in a variety of guises and nearly perfect British accents. Ellen Reilly is drop-dead hilarious as both the reclusive Miss Havasnort and the London lawyer Mr. Bunting. Jason O'Connell is remarkable as Rupert Stryfe and the stuttering Pinchnose, who becomes a vaguely feminine Pince Nez at his night job. Christopher Borg is equally funny as Penny's lowborn first love, Hotchkiss Spit, with an accent so thick that no one but Penny can understand him. Borg also serves as Penny's tonier last love and her meddlesome mother.  
Presented by Emerging Artists Theatre at TADA! Youth Theater, 15 W. 28th St., NYC. Oct. 5–Nov. 8. Mon., 7 p.m.; Wed.–Sat., 8 p.m.; Sun., 3 p.m. (212) 352-3101 or www.brownpapertickets.com.