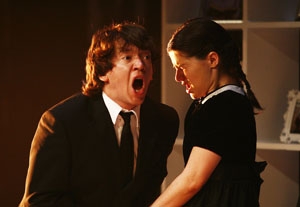 Right from the start of "Pieces," a gothic tale of juvenile menace by Welsh writer Hywel John, prepubescent twins Beatrice and Jack are a pretty creepy pair. Sitting side by side on the sofa and talking in closely synchronized cadences, they eye their godmother, Sophie, with unblinking stares. They are also dressed in black, having just come from the funeral of their parents, killed in an auto crash. There being no immediate family, Sophie, whom the children have not seen in a long time, has been given governance over them. Sophie is a nervous, fairly young woman and obviously is not going to be up to the job. And given the fact that she'll have to live with the twins in their isolated country house and doesn't know how to drive, one wonders why she doesn't just call a taxi and get out of there.
It also becomes relatively clear early on that Sophie at one time had a thing with the twins' father, and then a little later the twins begin to talk about how children are left to "pick up the pieces" after a calamity. It might be said that both John, in his first play, and director Kate Wasserberg have laid all their cards on the table way too soon to keep suspense percolating throughout the 90-minute play's 10 scenes.
However, the writing does project a touching sense of loss, and the skillfully wrought performances of Louise Collins and Steven Meo as the twins keep the proceedings worth watching. The printed script dictates that the roles "must be played by adults," but the real ages of Collins and Meo become irrelevant, so well do they capture a childlike maelstrom of confusion and trauma in the face of catastrophe. And when Meo begins to take on the characteristics of the twins' dead father, he is truly eerie. Jennifer Kidd engenders some sympathy as Sophie, but the character, as both written and played, could benefit from more spine. She comes across as much too easy a mark. "Pieces" could also use a few more sparks of conflict to electrify the dark mood.
Presented by Clwyd Theatr Cymru, Wales, as part of Brits Off Broadway at 59E59 Theaters, 59 E. 59th St., NYC. Nov. 9–21. Tue. and Wed., 7:30 p.m.; Thu. and Fri., 8:30 p.m.; Sat., 2:30 and 8:30 p.m.; Sun., 3:30 and 7:30 p.m. (212) 279-4200 or www.ticketcentral.com.