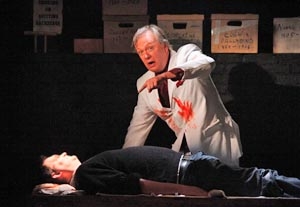 Todd Robbins' white linen suit and perfectly coiffed salt-and-pepper hair certainly bring the dapper and urbane Tom Wolfe to mind, but in "Play Dead," which Robbins wrote with director Teller (of Penn & Teller), the performer's elegant façade only hides a charming huckster who's there to do one thing: scare audiences. He accomplishes this feat sporadically as he spins stories of creepy figures from history, but though the interesting tales are complemented by some amazingly devised illusions (magic design by Johnny Thompson and magic engineering by Thom Rubino), the show has a determinedly cheesy tone that eventually becomes tiresome and undermines the genuine fright the production attempts to engender.
The sordid lives from the first part of the last century that the consistently winning Robbins invokes include those of Albert Falk, a serial killer of young children; socialite Margery Crandon, who held sexualized séances in her Manhattan townhouse; and Eusapia Palladino, who claimed to be able to talk to the dead. Each could make for a fascinating evening of theater, but the sketchy bios that Robbins provides are simply a springboard for his magic—including a stunning variation on making an audience volunteer disappear—and B-movie horror, which at one point includes the performer interacting unsavorily with a live rat.
It's this latter aspect of "Play Dead" that might play well with audiences who go for movies in the "Scream" or "Saw" series, but for others it proves tiresome early on. Thankfully, there's always the promise of more ghoulish storytelling, as well as the show's flawless production values: Thom Weaver's immaculately spooky lighting design and David Korins' creepy scenic design, which has an ambiance unto itself, are unimpeachable. Unfortunately, it's high artistry that's at odds with the low-budget heart at the center of this theatrical curiosity.
Presented by Alan Schuster, Cheryl Wiesenfeld, and Pat Blake, in association with Frank and Jono Gero and Ethan Silverman, at the Players Theatre, 115 MacDougal St., NYC. Opened Nov. 10 for an open run. Tue.–Fri., 8 p.m.; Sat., 7 and 10 p.m.; Sun., 3 and 7 p.m. (800) 745-3000 or www.ticketmaster.com.