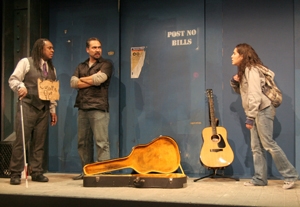 The occasional bursts of despair and rage that pepper Mando Alvarado's "Post No Bills" aren't quite enough to eradicate its cutesy premise of three subway buskers forming an unlikely family.
Former chart-topper Esteban (Teddy Cañez) now works a section of a New York City subway tunnel dubbed Post No Bills by its performing inhabitants, along with the blind Sal (John-Martin Green), who wears a suit and asks for a dollar donation to help people via "profanity counseling." They have a grumpy-old-men friendship that eventually results in Sal pressuring Esteban to befriend the angry and accusatory Reyna (Audrey Esparza), a street urchin whose sharp tongue and abrasive personality can't quite disguise the fact that she's essentially a toothless Dickensian concept.
The whole play is toothless, actually, and though the audience seemed receptive, the jokes and situations that Alvarado has written seem better suited to a Hallmark Hall of Fame movie than Off-Broadway. Esteban eventually invites Reyna to live in his cramped studio apartment; she makes him more human, and he gives her the confidence she needs to pursue her dream of becoming a singer, though he constantly reminds her that music must come from a place of darkness and pain. Eventually, their idyllic life is upended by roving subway performer Eddie (Wade Allain-Marcus). The play takes an unexpected turn but can't transcend its cute cartoon characters being put through their life-affirming paces.
Unfortunately, director Michael Ray Escamilla hasn't been able to do much to disguise the treacly nature of Alvarado's story other than to advise his cast to yell as loudly as they can, presumably to drown out the falsity of their dialogue. Esparza is particularly painful, managing to top off her screeching with a nasal shrillness that has the same effect as rubbing Styrofoam together. And Cañez takes his character's world-weariness to its natural extreme by refusing to unclench his jaw to properly enunciate any of his dialogue. Then again, maybe that was a judgment call rather than a character choice.
Presented by and at Rattlestick Playwrights Theater, 224 Waverly Place, NYC. Nov. 19–Dec. 13. Mon., Wed.–Sat., 8 p.m.; Sun., 3 p.m. (Additional performance Tue., Nov. 24; no performance Wed., Nov. 25, and Thu., Nov. 26.) (212) 868-4444 or www.smarttix.com.