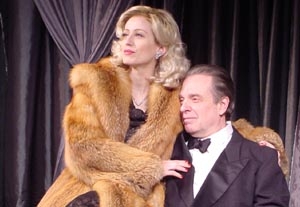 "Puma" was German writer Erich Maria Remarque's nickname for his on-again, off-again lover of more than 30 years, Marlene Dietrich. Remarque's diaries have only recently been translated, after being kept in a bank vault since his death in 1970. Playwrights Julie Gilbert, author of several acclaimed biographies and a niece of "Show Boat" scribe Edna Ferber, and Frank Evans have used them as the basis for this new play, currently at New Jersey Repertory Company, in Long Branch. The promising script is in need of focusing and cutting, but thanks to SuzAnne Barabas' confident and seamless direction, a talented cast of four, and the imaginative work of design team Jessica Parks (set), Jill Nagle (lights), Patricia E. Doherty (costumes), and Merek Royce Press (sound), "Puma" is already a diverting experience.
When Remarque and Dietrich met—in Venice in 1937, according to the play—he was already the internationally lionized author of "All Quiet on the Western Front," an antiwar novel dramatizing Remarque's experiences fighting for the Kaiser in World War I. She, of course, was well on her way to becoming a film goddess. He was a restless exile, his views unwelcome in Nazi Germany, and she would soon join him in that status. Both were married, but that was no hindrance to their pursuit of sexual pleasure, especially for Dietrich, virtually voracious in taking endless lovers of both sexes, frequently simultaneously.
The two live together in Paris until Dietrich can help Remarque get into the U.S., then must separate for appearances' sake in socially conservative America. He writes screenplays and becomes known in Hollywood. But after he suggests her for the lead in "Destry Rides Again," she responds by starting a serious affair with co-star Jimmy Stewart. Remarque and Dietrich periodically talk of marriage, but in the end neither really seems to want it. Ultimately, he divorces his first wife, weds fading film star Paulette Goddard, and returns to Europe, though he maintains a correspondence with the woman he considers to be the great love of his life.
Gilbert and Evans tell their story in flashback, setting the opening scene at Remarque's 65th birthday party. This allows the excellent John FitzGibbon to play the role, which he does with style and subtlety, navigating faultlessly between delivering narration and playing scenes. Effortlessly convincing in Remarque's European sophistication and piercing intelligence, FitzGibbon also excels at charting the character's journey from vibrant youth to health-challenged old age. He is matched by Ylfa Edelstein, as Dietrich. She has the unenviable task of playing a legend as a human being and succeeds admirably. Though she sounds uncannily like the star and physically evokes her to great effect, Edelstein's specific choices prevent any lapse into caricature.
Christopher Vettel is an intriguing Stewart, whose behavior here is considerably at odds with his public persona. Vettel employs the star's famous vocal cadences while highlighting a selfishness and darkness that suggest some of the actor's rather neurotic late-career work in films such as Hitchcock's "Vertigo." As Remarque's two wives and Stewart's eventual spouse, Natalie Wilder differentiates her characters cleanly.
The show's central problem is that the playwrights haven't decided why they are telling this story. Though these are fascinating people living in turbulent times, that's not enough. To properly soar, "Puma" needs to be more than just another showbiz tale. Still, kudos to the intrepid New Jersey Rep for giving Gilbert and Evans the opportunity to see what they've got. This scrappy company has produced 85 shows in 14 seasons, most of them original scripts. Judging from the packed and devoted audience at the show I attended, it is clearly doing something right.
Presented by and at New Jersey Repertory Company, 179 Broadway, Long Branch, N.J. Feb. 26–April 3. Thu. and Fri., 8 p.m.; Sat., 2 and 8 p.m.; Sun., 3 p.m. (732) 229-3166 or www.njrep.org.