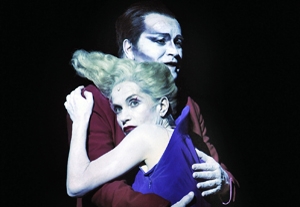 All "Quartett" needs is a pinch of responsive humor. The Brooklyn Academy of Music's intriguing production of Choderlos de Laclos' novel "Les Liaisons Dangereuses" already has the French obsession with sex, the German understanding of morbidity, and the American overlay of technical efficiency. As written by German playwright Heiner Müller, performed by a French cast headed by film star Isabelle Huppert, and directed by stateside wunderkind Robert Wilson, the production is more ballet than play, a quadrille about the consequences not of too much lust and violence but of too little.
In outline, "Quartett" is akin to versions of "Liaisons" seen on Broadway and film. Yet those were, for all their hints of cruelty and desire, mere child's play compared to the animalistic imaginings and mordant games given signature life by Wilson and company. When mouths are open on the BAM Harvey stage, not only words emerge but roars, whistles, clicks, and assorted other sounds not associated with sentient human beings. Nor is what eyes witness necessarily what's going on beneath the skin, not when that infamous couple Mme. de Merteuil and M. de Valmont switch identities, she becoming him, he becoming her, pointing up their mutuality as they try to recapture their passion by destroying the passion in others.
Performed in French sometimes so rapid only Parisians could keep up, with English supertitles, the play pits Merteuil and Valmont not only against each other but, it would seem, against every idea of morality. For them, not sinning is the sin. Heaven is reserved for those who have drained the cups of experience. Hell is for those who have not. "What is murder compared to the death of the soul?" they ask.
As in other versions, jaded, sated Merteuil challenges Valmont to seduce his virginal, convent-bred cousin. Here we have not only the two antagonists but younger versions of themselves, plus an elderly, nightgown-clad man who prances around with grisly glee. Each character has his or her own color: royal purple for Merteuil, blood red for the satanic Valmont, sea green for the cousin who also doubles as the younger Merteuil, and white for the studly young Valmont.
The 105-minute intermissionless evening has its longueurs, but Wilson's stage pictures are so gorgeous, his lighting so intense, Michael Galasso's music so suggestive, and the acting so stylized that the piece never bores. Huppert adds as many layers of sardonic humor as possible to the sensual, calculating Merteuil, while Ariel Garcia Valdès turns Valmont into a clownish, gone-to-seed devil figure. Rachel Eberhart and Benoît Maréchal are physically adroit as the young Merteuil and Valmont, with Louis Beyler as the capering satyr.
The play is shot through with images of disease and the "common destiny" of death, two inevitabilities that win out in the end. "You offend God by surrendering your gifts to time and the cemetery" goes one line, followed by "nothing can happen to a skeleton." True enough, obviously, but this "Quartett" makes the journey to the grave one that is bitten by the bitter taste of nihilism.
Presented by the Brooklyn Academy of Music at the BAM Harvey Theater, 651 Fulton St., Brooklyn, N.Y. Nov. 5–14. Tue.–Sat., 7:30 p.m.; Sun., 3 p.m. (718) 636-4100 or www.bam.org.