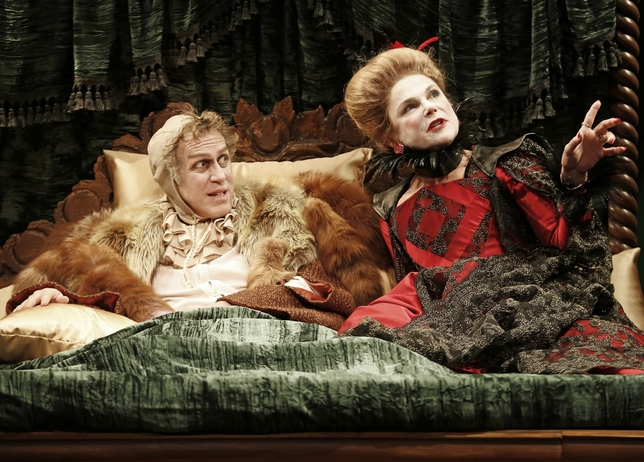 Classical theater often gets a bad rap, whether due to the required reading of Shakespeare in high school, writing 20-page analytical papers in college, or watching countless sub-par community theater productions. The regularly produced canon tends to be small and thus overdone. Fortunately, Red Bull Theater has turned to a classic by an infrequently produced playwright, and the result makes you wonder why regional theater companies everywhere aren't turning to works such as Ben Jonson's "Volpone" instead of producing yet another "Romeo and Juliet" or "Edward II."
"Volpone, or the Fox" centers on a feisty con man who, with the help of his servant Mosca, feigns a deathly illness to lure wealthy townsmen to woo him with gold and jewels in exchange for being named his heir. The elderly Corbaccio promises to disinherit his own son, while the wily merchant Corvino offers his beautiful wife, Celia, in exchange for an inheritance. However, Volpone cannot maintain appearances forever, and hilarity and disarray inevitably ensue. While the play is not as sophisticated as those of Shakespeare or his Elizabethan contemporary Christopher Marlowe, it is delightful in its comic simplicity, which is brought to life by director Jesse Berger's efficient and attractive production.
The play's humor lies in Jonson's explicit animal metaphor about upper-class society. Essentially, Volpone sets fox traps for Venice's "birds of prey"; Corbaccio means "raven," Corvino means "crow," and there is also the lawyer Voltore, or "vulture." A program note will explain this for you, or Clint Ramos' literal costumes, along with the cast's captivating handling of the play's language, will make understanding it almost too simple. There is little to be confused about here.
Stephen Spinella is deliciously silly in the title role, with an equally entertaining Cameron Folmar, as Mosca (read "fly"), by his side. Rocco Sisto has impressive stage presence as Voltore, while Michael Mastro oozes sleaziness as Corvino. However, Alvin Epstein steals all the laughs as Corbaccio. As Nano, a dwarf; Castrone, a eunuch; and Androgyno, a hermaphrodite, Teale Sperling, Sean Patrick Doyle, and Alexander Sovronsky get a little too weird. Though their work is exceedingly giddy, the S&M approach goes a bit too far and is not entirely in keeping with Scott Killian's period-appropriate music.
Tovah Feldshuh gives the most wonderfully over-the-top performance as an English madam who attempts to court Volpone, and though the tight-knit ensemble blends well, Feldshuh delightfully hams up each of her scenes. Christina Pumariega is also exaggerated as the beautiful Celia, and though somewhat distracting, her performance is in line with the text.
Set designer John Arnone creates Venice with simple drawn backdrops, and Peter West's lighting transforms the two-dimensional planes into a vibrant landscape. It is almost as rare to find a show this well acted and presented as it is to find a production of a Jonson play. Amid the busy holiday season, "Volpone" is worth your time.
Presented by Red Bull Theater at the Lucille Lortel Theatre, 121 Christopher St., NYC. Dec. 9–23. (212) 352-3101, (866) 811-4111, www.theatermania.com, or www.redbulltheater.com. Casting by Suart Howard.
Critic's Score: A-