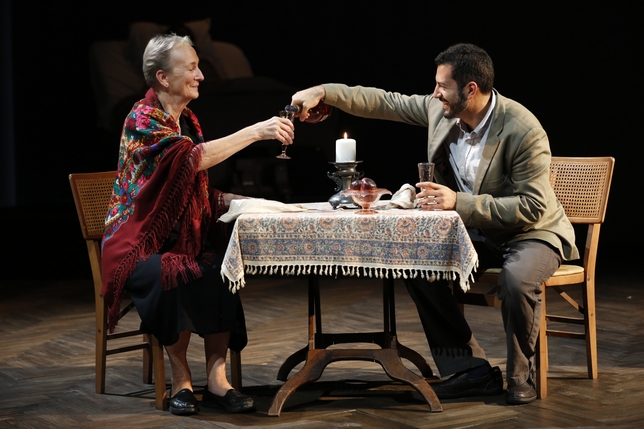 Despite being based on the concept of long-held family secrets, very little is surprising about Alexander Dinelaris's drama "Red Dog Howls." Michael, a 34-year-old Armenian man on the brink of a massive identity crisis, says at the top of the play, "There are sins from which we can never be absolved. I know this… because I have committed one." While there are some twists and turns along the way, Dinelaris relies too heavily on straight exposition—an offense exacerbated by the fact that director Ken Rus Schmoll doesn't capitalize on the play's few dramatic moments.
Michael narrates the play throughout to convey the events of the past, and his rambling, factoid-laden monologues, which splice every scene, enumerate both the action onstage and the history of the Armenian genocide. The play opens with Michael and his wife Gabriella, who is expecting their first child, having dinner. Their exchanges are stiff, with lines like "I'm just sitting here" and "I'm standing here, you know, holding things." Dinelaris writes in this mode consistently and his play rarely spurs to action, except in a final scene in which the brilliant Kathleen Chalfant delivers a moving penultimate monologue.
It's clear that Michael and Gabriella love each other, but their relationship is rocky. Michael has been dealing with the death of his father and in an effort to investigate his past, he seeks out Rose Afratian, a 91-year-old Armenian woman who lives alone in Washington Heights. Turns out Rose is Michael's long-lost grandmother, and throughout the course of the play the reunited relatives share stories and slowly uncover family secrets that will change the course of each of their lives.
Alfredo Narciso successfully leads the trio of actors as Michael. His performance is appropriately guarded, though he sometimes struggles to make his character relatable to the audience. Florencia Lozano is too calculated as Gabriella, and never seems fully comfortable in the part. The best thing about the production is, unsurprisingly, Chalfant, who delivers a stunning performance as Rose. Chalfant is so aware in her body and disappears inside this elderly woman, simultaneously vivacious and disturbed.
Schmoll maintains a nice rhythm, though the piece comes across as a series of scenes rather than a cohesive whole. Marsha Ginsberg's scene design is sparse, while David C. Woolard's costume design is simple and character specific.
The story is affecting, though the manner in which Narciso tells it makes it difficult to engage. The soliloquies and scenes feel more like essays in a book rather than pieces of a play. As Rose says, "You have to be strong" to endure it.
Presented by and at New York Theatre Workshop, 79 E. 4th St., NYC. Sept. 24-Oct. 14. (212) 460-5475 or www.ticketcentral.com.
Critic's Score: C+