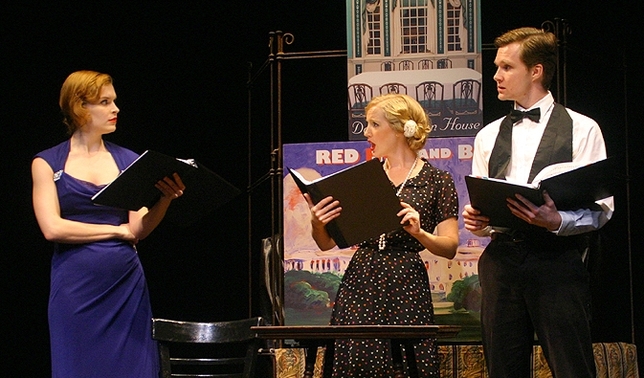 "Red, Hot and Blue" contains a Cole Porter score that begs to be rediscovered. Originally a Broadway vehicle for Ethel Merman, Jimmy Durante, and Bob Hope, Porter's 1936 follow-up to "Anything Goes" is more or less that classic's equal in many ways, similarly trafficking in standards ("It's De-Lovely," "Down in the Depths"), unknown ballads that could easily be standards ("You've Got Something," "Ours"), and Porter's impudent jabs at love, society, and his elite friends—one number lightly slaps Katharine Hepburn, Barbara Hutton, and Marlene Dietrich.
Mel Miller's Musicals Tonight! revival delivers the hits and even generously brings back a couple of songs that were cut during rehearsals nearly 80 years ago, finally allowing us to savor such goodies as "Bertie and Gertie," one of the silliest and most adorable throwaways Porter ever wrote. And under Thomas Sabella-Mills' direction, the vocally strong cast makes the most of nimble melodies and sweet harmonies.
Unfortunately, there's a book. The early Howard Lindsay–Russel Crouse effort is from an era when, with a couple of notable exceptions ("Show Boat," "Of Thee I Sing"), musical comedy libretti were flimsy frames on which to hang song cues, puns, slapstick, and the mildest of satire. Even by those standards, though, this one's a dog. The plot centers on wealthy widow Nails Duquesne (Lauren Elaine Taylor), whose plan to fund a prisoners' charity with a national lottery conflicts with her love for Bob (Christopher Ryan). But Bob thinks he's still in love with an old childhood pal, a dumb blonde named Peaches (Tara Lynne Khaler). With the help of Pinkle (Roger Rifkin), an ex-con who longs to return to prison, Nails and Bob try to sabotage their lottery, which will conclude with Bob's marriage to Peaches.
This collection of feeble sketches is light and wordy, and when the comedy isn't working, which is often, it wheezes. One scene involving a potion that's supposed to knock people out sees the victims repeatedly recovering, seemingly just because Lindsay and Crouse like pummeling their premises into the ground. And in the finale, Peaches decides she doesn't love Bob after all, because, well, it's 10 p.m. and we have to wrap things up.
Taylor, so good in another Merman part earlier this year in Miller's production of "Something for the Boys," misses a cue or two and muffs the occasional lyric, but when she holds a long note on "Ridin' High," we're very, very happy. Ryan easily negotiates the nearly two octaves of his big ballad, and Khaler, playing a role we've seen in dozens of light farces, has acute comic timing and a supple alto. Durante's signature style might be inimitable, but Rifkin, a Musicals Tonight! mainstay, gives it all he's got. Plenty of musicals marry fabulous scores to incompetent books; this is a supreme example. Pray for the pianist to start playing a tune.
Presented by Musicals Tonight! at the Lion Theatre, 410 W. 42nd St., NYC. Oct. 2–14. (212) 239-6200 or www.telecharge.com. Casting by Holly Buczek.
Grade: B-