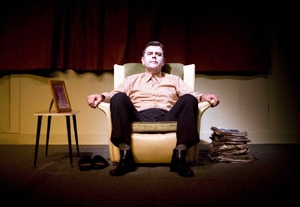 Matt Wilkinson's new play is a complex exploration of family relationships and the imagination of the human mind, and it's been shipped here straight from Brighton. The show's British cast has kept the original staging intact, and the script paints a realistic portrait of a complex father-son relationship punctuated by moments of insight. Ultimately, though, "Red Sea Fish" fails to tell a coherent, meaningful story.
The play takes place in the apartment of Ray and his devoted caretaker and son, Terry, on the south coast of England. Over the course of 48 hours, the pair's relationship and their perceptions of reality and the power of imagination fundamentally change, thanks to the introduction of a third party. As Ray suffers from a rare skin condition, father and son live largely confined to their home. Thus, when Terry invites Karen, a young runaway and the object of his budding affections, into the apartment, she provokes both men and brings out long-buried truths about their respective notions of past, present, and future.
Tim Blissett shows skill and versatility in his portrayal of Ray, an aging invalid who largely lives in the world of his own stories, content to be sealed off from the world below his apartment. His routines and mannerisms come across clearly, painting the picture of a realistic and endearing character. Matt Houghton's Terry feels genuinely connected to his father, sealed in the role of a dutiful son locked away to see to his father's needs.
Janna Fox's emotions as Karen, however, are as absent as her distractingly missing eyebrows. In fact, both were so lacking that numerous audible comments were whispered among the small audience, drawing a few laughs that had nothing to do with the attempts at dark humor in the script. At times Karen's lack of depth appears to imply either a hint of mental illness or perhaps an aloof response to the confusing conditions within the apartment. Neither seems to be the intention, however, so the role—which poses the plot's turning point and is responsible for the script's evolutionary drive—falls utterly flat. What's more, in the small theater, the actors' sincere attempts to make the show work are evident in compensatory overacting, with Fox and Houghton visibly struggling to convey emotion and depth.
While Wilkinson's work aims high and attempts to address interesting ideas, its execution fails to thrive like fish in the titular sea; rather, it feels as if we're watching laborious attempts to keep from drowning.

Presented by Two Bins, Brighton as part of Brits Off Broadway 2009 at 59E59 Theaters, 59 E. 59th St., NYC. Nov. 8–22. Tue., 7:30 p.m.; Wed.–Fri., 8:30 p.m.; Sat., 2:30 and 8:30 p.m.; Sun., 3:30 and 7:30 p.m. (212) 279-4200 or www.ticketcentral.com.