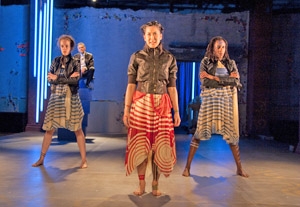 What is it with Greek theater below 14th Street? It seems that almost every classical adaptation trembles in the face of Hellenic drama. Instead of bringing the audience up to the superhuman magnitude of Greek tragedy, it cops out and dumbs the original down to the hyperconsumable level of a TV sitcom.
Unsuccessfully couching itself in postmodernism, Michi Barall's playwriting debut, "Rescue Me," a middling adaptation of Euripides' proto-melodrama "Iphigenia at Tauris," is, sadly, another entry in this downtown pantheon. As the goddess Artemis (a dapper David Greenspan) explains, the more well-known "Iphigenia at Aulis" is "an altogether different play" from "Iphigenia at Tauris." Here, Iphigenia (an efficient Jennifer Ikeda) has escaped her famous sacrifice at her father Agamemnon's hands, thanks to Artemis. In compensation for her miraculous reprieve, the princess must toil at the goddess's temple by preparing foreigners for ritual sacrifice. When she's reunited with her brother Orestes (Julian Barnett) and his friend Pylades (Ryan King), the three Greeks hatch a plan to escape Tauris and return to Argos.
In the hands of Barall—an accomplished actor with Anne Bogart's SITI Company and in the work of her husband, playwright Charles Mee—Euripides' tragicomedy falls prey to goofy gags and shopworn downtown conventions. Artemis watches telenovelas on video monitors that flank the stage, while King Thoas (Leon Ingulsrud) serves up hokey rockabilly swagger, routinely breaking into Elvis songs. (He's "the king," get it?) Intermission, when snacks are served during a question-and-answer period with a rotating slate of classical scholars, oddly proves to be the most successful aspect of the evening.
Sadly, all these postmodern flourishes and sideways glances toward Grecian dramaturgy never effectively enhance or illuminate Euripides' drama. Frankly, it's a shame, considering how many stellar downtown talents are involved with the production. Director Loy Arcenas fluidly stages the show, and Greenspan delivers yet another sparkling performance—but for what? Without a clear point of view or a truthful center, Iphigenia won't be the only one begging to be rescued.
Presented by Ma-Yi Theater Company and Suzette Porte at the Ohio Theatre, 66 Wooster St., NYC. March 30–April 18. Tue.–Sat., 7:30 p.m.; Sat. and Sun., 2:30 p.m. (No performance Sun., April 4.) (212) 352-3101, (866) 811-4111, www.theatermania.com, or www.ma-yitheatre.org.