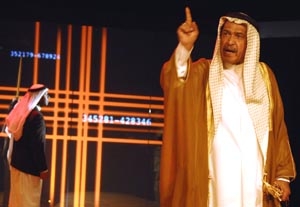 With
Richard III
:
An Arab Tragedy
, adapter-director Sulayman Al-Bassam takes Shakespeare's history play about the infamous ruler and transforms it into a compelling portrait of political maneuvering in a contemporary Arab monarchy.
Performed in Arabic with English supertitles, this mix of the Bard's text and new dialogue and situations from Al-Bassam traces the familiar path of Richard's scheming, double-crossing, and murdering to his country's throne. One of Al-Bassam's chief and most successful revisions is to imagine that Richard's words and actions are being reported to the American government. The spy listening in on conversations, seen in silhouette behind the opaque screens (the focal point of Sam Collins' spare scenic design), turns out to be Richard's friend Buckingham (made almost pitiable by Raymond El Hosny). The recipient of his email dispatches (also seen on the screens) ultimately is revealed to be Mr. Richmond (played as a smarmy good ol' boy by Nigel Barrett), aka Henry Tudor, but here an American diplomat.
Live video simulating breaking news reports and cell-phone photo ops is judiciously deployed, but there are times when the multimedia elements prove unsuccessful and distracting. Still, such moments are infrequent and don't detract from the production's overall success, particularly given Fayez Kazak's initially charismatic but progressively frightening and psychotic turn as Richard.
Equally impressive are Amal Omran, who imbues the mad former Queen Margaret with electrifying fierceness; Monadhil Daood, a sensual and licentious Catesby; and Carole Abboud, whose turn as Elizabeth, the monarchy's current queen, is a model of shrewdly subtle politicking. Al-Bassam retains Shakespeare's final moments, in which Richmond announces his intentions to marry Elizabeth, but has amended the text to include buzzword phrases like
provisional government
, which may lead theatergoers to wonder if the worst is yet to come for this Arab state.
Presented by Brooklyn Academy of Music, Asia Society, NYU Center for Dialogues as part of Muslim Voices
:
Arts & Ideas at BAM Harvey Theater, 651 Fulton St
.,
Brooklyn, NYC. June 9
–
12. Tue
.–
Fri
.,
7:30 p.m
. (
718
)
636-4100 or www.bam.org
.