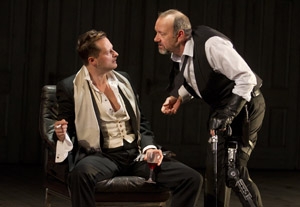 There is a famous Monty Python sketch called "Royal Hospital for Overacting," in which the most critical patients are sent to the Richard III ward. There the afflicted rant on about exchanging their kingdoms for a horse in varying degrees of hysteria. Kevin Spacey, usually an admirably restrained performer on screen and stage, is a fit candidate for this thespian clinic for his way-over-the-top interpretation of Shakespeare's darkest villain, now on view at Brooklyn Academy of Music after a world tour.
It's really a pity, because there are admirable elements in Spacey's limning and in the production that contains it: Sam Mendes' final offering for the Bridge Project, a heretofore successful collaboration between American and British artists. What Spacey does best is the sly wink at the audience as Richard sarcastically comments on the stupidity of those who fall for his "honeyed words" and subtle deceptions as the deformed usurper crawls toward the English throne over a mountain of corpses. Spacey's Richard lets us in on the joke with devastatingly dry wit, exuding contempt for mankind in general and his credulous victims in particular. But the star relies too much on venting Richard's ire, shifting into rageaholic mode so often it becomes tedious long before the intermission of this three-and-a-half-hour bloodbath. It doesn't help that Spacey's vocal equipment is so limited. He lends no variety to Richard's tantrums, and the speeches get stuck in his throat, so they come out as the garbled screams of a spoiled brat rather than the complex expressions of a Machiavellian genius.
Mendes' muscular and insightful staging almost compensates for the uneven star performance. Smartly costumed by Catherine Zuber in sharp contemporary suits, set in Tom Piper's rough-hewn room of gray doors, and ominously lit by Paul Pyant, Mendes' volatile England evokes both boardroom and torture chamber. These courtiers are slick and proficient at public relations—there's even a photographer snapping the hypocritical embraces of rival factions—but are as ready to slit one another's throats as Richard is. I did have a problem with Mendes' choice of how to indicate execution. The imposing angel of death Brackenbury merely closes the eyes of the victim, rather a tame bit of business. But Mendes has many exciting tricks up his sleeve, such as a ghoulish banquet of Richard's dead toasting his defeat in battle and the use of martial drums beating out a frightening tattoo of tyranny with increasing frequency. Mark Bennett composed the appropriately brutal original music. I also enjoyed Jon Driscoll's video projections, which included "Law & Order"–like supertitles introducing each scene with the name of the character playing a central part in it.
The Anglo-American company delivers much solid work, mainly from the ladies. These include Haydn Gwynne's prickly Queen Elizabeth, Annabel Scholey's heavy-lidded Lady Anne, and Maureen Anderman's icily dignified Duchess of York. On the male side, we have Jack Ellis' noble but naive Hastings, Chuk Iwuji's scheming Buckingham, and Michael Rudko's surprisingly steely Lord Stanley.
Particularly outstanding is Gemma Jones' fierce Queen Margaret. Zuber has dressed her as a ragged bag lady, and she delivers curses and imprecations with such a white-hot intensity that it burns the stage. Mendes has made her the omnipresent symbol of vengeance and the instrument of Richard's downfall. Jones takes this direction and runs with it, serving as a formidable counterweight to Spacey's showy but shallow star turn.
Presented by Bank of America, BAM, the Old Vic, and Neal Street at the BAM Harvey Theater, 651 Fulton St., Brooklyn, N.Y. Jan. 18–March 4. Tue.–Sat., 7:30 p.m.; Sat., 2 p.m.; Sun., 3 p.m. (718) 636-4100 or www.bam.org. Casting by Daniel Swee and Maggie Lunn.