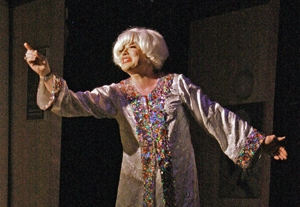 You can take the girl out of the cabaret, but you can't take the cabaret out of the girl. Richard Skipper has been performing as his idol, Carol Channing, for at least 20 years now, playing clubs, casinos, hotels, discos, colleges, cruise ships, TV talk shows, tribute programs, and even the New York Historical Society, according to his program bio. He's garnered a gallery of awards along the way, including a Back Stage Bistro Award. Now he's in an Off-Broadway theater, but don't let that fool you—this is still a cabaret act. If you go with that in mind, as well as recognize that Skipper has no interest in progressing beyond hagiography, you may very well have a good time. If you're looking for anything more, it's probably not the show for you.
Clad in a red dress and Channing's trademark platinum-blond bowl-shaped bob, his lips roundly rouged and false eyelashes firmly affixed, Skipper manages enough of a physical resemblance, though he's a bit too zaftig to accurately reproduce the forever trim and tall Channing's angularity, all elbows and flashing legs. Fortunately, he's aiming more for an impression than an impersonation, and he channels the star's vocal inflections, rhythms, and timbres, as well as some signature body language. Skipper's love for his subject is palpable and is probably what allows him to so effortlessly project Channing's warm essence. It's no surprise to learn that she's one of his biggest fans.
Skipper alternates songs, mostly familiar ones from Channing's various musicals, with jokes, showbiz stories, and playful audience interaction. He's very spontaneous in his repartee, good at turning to his advantage moments such as when an audience member, when asked if he had ever acted, told him that he once played a Mountie in "Little Mary Sunshine." That was milked several times. Skipper has audience members submit written questions about Channing's life and career in advance, then answers them in character with reasonable dexterity. He's not above a little purloining, however. The night I attended, he recycled a joke that I heard Lorna Luft tell the week before in her act at Feinstein's (Skipper was in the audience that night). Luft got the bigger laugh, but that's because Skipper had to leave out an important punctuating profanity, as it's a word Channing most definitely would not use on stage.
Skipper isn't as successful in song, however. In particular, his high belt has a real edge that sounds absolutely nothing like Channing. And while his renditions of such songs as "(I'm Just) A Little Girl From Little Rock," "Jazz Baby," and "Diamonds Are a Girl's Best Friend" are enjoyable enough, he never achieves Channing's ferocious energy and razor-sharp timing. In particular, a five-song suite from "Hello, Dolly!" that he uses for an encore goes on far too long and never really lifts off. A three-piece musical ensemble under the direction of John Fischer provides fine support.
I've always been intrigued by the woman lurking behind Channing's dizzy persona. There seems to be a fierce intelligence and real steel, something I once saw emerge at the St. James Theatre, when Channing, smiling tightly, repeatedly corrected an errant conductor about how a song should go while filming a TV special devoted to the work of composer Jule Styne. Skipper gives no hint of that Channing, nor does he venture into her less familiar material. I was longing to hear something from "Show Girl"—say the Cecilia Sisson routine—or better yet, "I'm Everybody's Baby," her hysterical 11 o'clock number from "The Vamp." Skipper, however, clearly prefers to stick with the tried and true.
Adjectives like "pleasant," "friendly," and "ingratiating" spring to mind about the show. Exciting, however, it's not.
Presented by the Camelback Kid, in association with Elegant Diamond Productions and Edmund Gaynes, at St. Luke's Theatre, 308 W. 46th St., NYC. Opened Jan. 12 for an open run. Wed., 2 and 8 p.m. (212) 239-6200, (800) 432-7250, or www.telecharge.com.