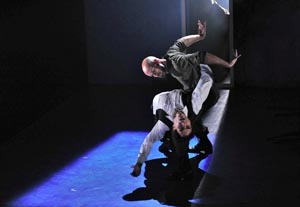 The works of Virginia Woolf are notoriously difficult to adapt to other media. That's because the action in her novels and stories is all interior, with the characters' brutal psychological conflicts being fought beneath the surface as they go about their everyday business of sipping tea, shopping for flowers, and planning parties. This stream-of-consciousness style is more easily transmitted on the page than on the stage or screen. Despite the luminous presence of Vanessa Redgrave in the title role, a 1997 film version of Woolf's "Mrs. Dalloway," perhaps her finest examination of the inner turmoil of post–World War I life in Great Britain, missed the mark by dwelling on the elegant upper-class settings rather than focusing on the internal struggles of their inhabitants.
Ripe Time, a Brooklyn-based company that emphasizes visual and aural design, takes up the challenge of theatricalizing "Mrs. Dalloway" and succeeds admirably with "Septimus & Clarissa," now at Manhattan's Baruch Performing Arts Center. This is a breathtaking fusion of Woolf's text, Ellen McLaughlin's adept adaptation, Gina Leishman's evocative musical score, Rachel Dickstein's imaginative direction, as well as well-chosen design elements and choreography created in collaboration with the intense and sensitive ensemble. The title refers to Woolf's protagonists: a shell-shocked veteran contemplating suicide and a socialite reviewing lost loves and the mistakes of her past as she prepares for one of her famous soirees. The action takes place in a single day as these two disparate characters' paths tangentially cross.
The internal battles of Septimus Warren Smith, Clarissa Dalloway, and their respective friends and family are physicalized with full-throttle movement and dance patterns, seamlessly integrated into Dickstein's fluid staging. Set designer Susan Zeeman Rogers creates a flexible environment consisting of a massive staircase on wheels, a series of open door frames, multileveled windows in the back wall, and several dollhouses. Keith Parham's lighting creates a landscape that can instantly shift from a sunny London park to the nightmarish mind of a tormented ex-soldier.
In addition to writing the script, McLaughlin gives a high-impact performance as the reflective Clarissa. She carefully avoids the trap of making this rich, privileged woman seem spoiled or self-pitying. Instead, McLaughlin makes Clarissa's solid objective a desperate need to understand the choices that she and her country have made and how to make the best of them. Tommy Schrider gives almost painful reality to Septimus' anguish without indulging in melodrama. Miriam Silverman delivers two distinct creations in Elizabeth, Clarissa's preoccupied daughter, and Lucrezia, Septimus' long-suffering Italian wife. There are also valuable contributions from veteran actors Tom Nelis, Henry Stram, and Susan Pellegrino, who etch a gallery of vital cameo portraits.
Presented by Ripe Time at Baruch Performing Arts Center, 55 Lexington Ave., NYC. Sept. 15–Oct. 8. Tue., 7 p.m.; Wed.–Sat., 8 p.m.; Sun., 2 p.m. (212) 352-3101, (866) 811-4111, or www.theatermania.com. Casting by Geoff Josselson.