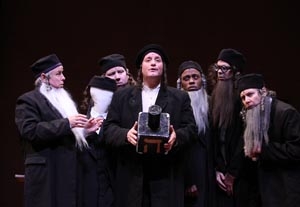 There's nothing wrong with "Shlemiel the First," Robert Brustein's 1994 musical adaptation of a 1974 Isaac Bashevis Singer play (in turn taken from one of Singer's children's stories), that couldn't be cured by slicing out the intermission and whittling the two-hour proceedings down a bit. Still, it's a perfectly pleasant piece of Yiddish folderol about the mythical town of Chelm, whose male inhabitants are fools suffering from the mistaken belief that they are wise. Sporting an infectious, theatrically savvy klezmer score by Hankus Netsky and Zalmen Mlotek (partially based on traditional tunes) and absolutely first-rate lyrics by Arnold Weinstein, the show is a quiet charmer well-suited to the holiday season.
The slender story follows the adventures of Shlemiel, beadle to the town council of self-appointed sages. Head wise guy Gronam Ox decides that Shlemiel should go out into the world for several years to spread Ox's genius far and wide. Mrs. Shlemiel, of course, isn't too pleased, even if their marriage isn't what it once was. Shlemiel goes, only to meet up with Chaim Rascal, who not only robs him but tricks him into going back toward Chelm. When Shlemiel returns, he becomes convinced that he is in a second Chelm, not his hometown. Everyone and everything in it is an alternate version of his reality, even his wife, for whom he is shortly lusting, thanks to the attractions of adultery. The townsfolk agree and complications snowball until Chaim Rascal conveniently shows up and sets everyone straight. Ox has an epiphany that he isn't wise after all, and the show ends delivering its moral: "You achieve wisdom only when you know that you're dumb," in the words of Brustein.
Under director-choreographer David Gordon's light and antic touch, the show whizzes by, which helps to distract us from the fact that Act 1 is all setup and the story doesn't kick in until Act 2, when Shlemiel reappears. (It was interesting to note that the first musical moment to really rouse the audience was the entr'acte, conducted to a whirling fare-thee-well by Mlotek, who also provided the fine musical direction.) Atmosphere is much in a show like this. Fortunately, the production team delivers, with Catherine Zuber's muted, fablelike costumes, Jennifer Tipton's delicate lighting, and especially Robert Israel's inspired set of askew flats, painted rocks, and uneven floor, not to mention a wonderful vertical bed for the Shlemiels, adding greatly to the evening's buoyancy. When Shlemiel begins his journey and Israel has the company moving pieces and people about by pulling them on rugs, it's a theatrical delight.
Gordon seems to have pitched the performances just a shade under what's called for, but they are still generally enjoyable. Michael Iannucci gives Shlemiel a winning, uncomplicated sweetness, and he and Amy Warren, a warmly tart Mrs. Shlemiel, create a convincing long-term push-pull marital bond. Jeff Brooks is a properly pompous and dim Ox, but Kristine Zbornik is a bit hamstrung by all the understatement as Ox's long-suffering wife. Bob Ader, as Zalman Tippish, a rich miser who wants the wise men to prevent his demise, tries hard but can't quite put over the shticky "I'm Going to Die," and a beaming Darryl Winslow just misses a satisfying comic stylization as Chaim Rascal.
Touches such as integrating the band into the onstage action at times and having women play men, adults play children, and a dummy as a wise man happily heighten the whimsy. Slight as it is, "Shlemiel the First" ultimately diverts more than it drags.
Presented by Theatre for a New Audience, National Yiddish Theatre–Folksbiene, NYU Skirball Center for the Performing Arts, and Peak Performances at Montclair State University at New York University's Jack H. Skirball Center for the Performing Arts, 566 La Guardia Place, NYC. Dec. 15–31. Tue.–Sat., 7 p.m.; Wed. and Sat., 2 p.m.; Sun., 3 p.m. (Additional performance Mon., Dec. 26, 7 p.m.) (212) 352-3101, (866) 811-4111, www.theatermania.com, or www.skirballcenter.nyu.edu. Casting by Cindi Rush Casting and Deborah Brown.