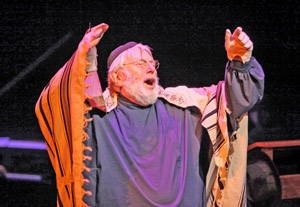 So robust, magnetic, and full-voiced is Theodore Bikel in his one-man show about the great Yiddish writer Sholom Aleichem (1853–1916) that it's startling to read his bio, showing that he was born in 1924. He's 85! Bikel seems 20 years younger than many of the enthusiastic elderly audience members attending the matinee I saw. Though the 90-minute show—in which the actor portrays Aleichem, sings Yiddish songs (most translated into English midway through), and performs some of Aleichem's stories—Bikel projects real star power. He also frames the show with his own thoughts about the material. Director Derek Goldman seamlessly stages the action.
Bikel draws upon more than 40 of Aleichem's volumes, as well as anecdotes about the "Jewish Mark Twain," whose conversational style sounds natural spoken aloud. Dressed by costumer Gail Cooper-Hecht in a blue tunic with a red belt, Bikel connects with the audience, which sings softly during the well-known Yiddish song "Oyfn Pripetshik," among others. Bikel interacts with Zachary Borovay's projections of photographs and paintings of Jews in Eastern Europe and New York, where Aleichem lived for the last two years of his life. In Europe, even the poorest Jews had "a hunger for knowledge," Aleichem observed. "Here, there is mostly a hunger for possessions, a greed for gold. No wonder they call it di Goldene Medine, the Golden Land." This show is in English with Russian supertitles, and there are bits of Yiddish sprinkled throughout. Fine music on piano and accordion is provided by musical director Tamara Brooks and Merima Klju?o.
Bikel does all the voices when he tells stories of the shtetl Kasrilevke, including a funny story about a ride on a tram and the people who won't pay. After the song that follows, Bikel remarks that in world music, "Nowhere except in a Jewish song will you hear a mention of hemorrhoids."
Bikel has played Tevye in "Fiddler on the Roof" more than 2,000 times, and you get Tevye here too, in Aleichem's stories of the two daughters who didn't make it into that musical. One is Bielke, the youngest, who married a rich man who went bankrupt, with the couple then fleeing to America. The other is Shprintze, who drowned herself for love. Tevye's attempt to control his tears is affecting. Schmaltz, catharsis, nu? "Sholom Aleichem: Laughter Through Tears" is a compelling homage from a compelling performer. You could do worse.

Presented by the National Yiddish Theatre Folksbiene at Baruch Performing Arts Center, 55 Lexington Ave., NYC. Nov. 17–Dec. 13. Schedule varies. (212) 352-3101, (866) 811-4111, www.theatermania.com, or www.folksbiene.org.