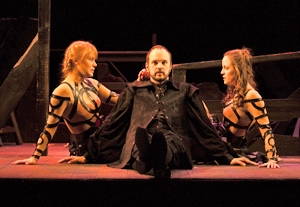 On the surface, "Sin," an adaptation of Isaac Bashevis Singer's "The Unseen" by Mark Altman (who reads Singer in the original Yiddish), is a story of demonic temptation. Underneath, it considers adultery, forgiveness, and faith. It is a fine adult fable, though at times in this world premiere the pace drags and Singer's powerful observations are muddied.
In a prologue we meet Satan (Grant James Varjas) and his two female demons, sexy Shifre Tsirl (Sarah Grace Wilson) and kindly Dvoyre Leye (Jessiee Datino). Satan plans to send them to tempt a loving, childless couple: wealthy 60-something merchant Nosn (Paul Collins) and his wife, Royze Temerl (Suzanne Toren). They've never had children and are everything to each other. Posing as a coachman named Leybish, Satan appears with two maids for hire—the two demons. One of the nicest jokes in the play is what a bad actor Satan is as Leybish. Cocky Shifre Tsirl seduces Nosn into giving devoted Royze Temerl a "get," a Jewish divorce, which, like a subpoena, takes effect as soon as it's read.
Michael Locher's unit set is gorgeous, as are the 16th-century costumes by China Lee (Altman resets the story from the 19th century). The demon unitards that appear to be covered with strips of leather, making graphic shapes, are both sexy and scary. Altman's dialogue is rich, full of the abrupt humor of the Yiddish. "If someone were to lick my heart, they would poison themselves," Royze Temerl says.
The cast is strong. Wilson's demon is luminous, both attractive and repellent, and Collins ably portrays Nosn as a decent but weak man. As Moyshe Mekheles, who marries divorcée Temerl, husky-voiced Pierre Epstein evokes almost too much sympathy for his character, considering the role Moyshe later plays in the action. As Satan, Varjas' never-ending irritation amuses, and Toren's Royze Temerl radiates love and warmth, particularly in Act 2, when she reunites with Nosn and Satan's deeper plot unfolds. Datino's quiet decency is effective.
But what Satan wants to accomplish is unclear. In the prologue, he wants Shifre Tsirl to conceive with a rabbi, who dies in the act. Later on, he's out against belief itself. Director Kent Paul shapes fine moments, but his work lacks a strong overall rhythm. At more than two hours, "Sin" crawls to its end. What should be a Pyrrhic vindication of God's faith in man, and vice versa, feels episodic and does not satisfy. Nevertheless, the colorful world of "Sin" is still worth a visit.

Presented by Tish and Benk Productions at Baruch Performing Arts Center, 55 Lexington Ave., NYC. March 17–21. Tue., 7 p.m.; Wed.–Sat., 8 p.m.; Wed. and Sat., 2 p.m.; Sun., 3 p.m. (212) 352-3101, (866) 811-4111, or www.theatermania.com. Casting by Alan Filderman.