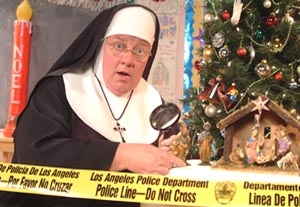 One might suspect that any grown adult who would willfully subject himself to the authoritarianism of a parochial-school classroom is penitently earning points toward saintly martyrdom. But for those who willingly sign up for "Sister's Christmas Catechism," a participatory crash course on the miracle of the Nativity, the painful memories of Catholic school uniforms and yardstick-rapped knuckles quickly give way to nostalgic affection.
Maripat Donovan, who wrote the show with Jane Morris and Marc Silva, presides over the classroom as Sister, a formidable no-nonsense nun in a pre–Vatican II habit. Those who caught her long-running solo show "Late Nite Catechism" can look forward to much of the same audience-as-gradeschoolers shtick: Correctly answering questions about the saints will earn kitschy prizes, while chewing gum will get you a reprimand and a tissue in which to expectorate the offending wad. This time around, Sister tells the story of the Virgin Mary, points out the secular bastardization of St. Nicholas, and puts Christ back into Christmas by rewriting "Jingle Bells" ("Oh, what fun it is to ride with baby Jesus in the sleigh," she insists). Unfortunately, the second act gets mired down as Sister casts a live Nativity—conscripting audience members and costuming them in donated castoffs—in an elaborate setup that never really pays off.
That said, Donovan's formidable Sister rules the classroom with a firm yet friendly hand, staying one step ahead of any smart alecks in the house and deftly improvising off the loose script. But don't expect "Christmas Catechism" to be group therapy for recovering Catholics; there may be a few sly sideways swipes at the church's sexism or illogicality, but the jokes are as tame and innocent as baby Jesus himself. Who would've thought a nun would make an already-guilty pleasure a little less guilty?
Presented by Entertainment Events at the Downstairs Theatre at Sofia's, 227 W. 46th St
.,
NYC. Dec. 3
–
Jan. 3. Tue
.,
7:30 p.m
.;
Wed
.,
2 and 8 p.m
.;
Thu
.,
8 p.m
.;
Sat
.,
5 p.m
.;
Sun
.,
3 p.m
. (
No performance Thu
.,
Dec. 24 and 31
.) (
212
)
47-9300 or www.entertainmentevents.com
.