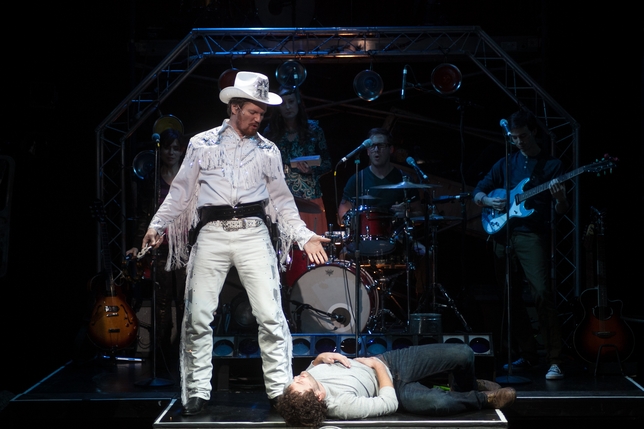 Don Chaffer is a passionate storyteller. The composer's mellifluous melodies run deep, and he cradles his creation with the tenderness of a father embracing a small child. However, Chaffer's fervor and delicacy inadvertently handicap his first musical, "Son of a Gun," which tells the tale of a father and son at odds with each other. While compassion pours out of Chaffer's songs, the show fails to find its focus and ends up coming across as contrived.
This is not entirely Chaffer's fault, however. The music began as an album, one that Chaffer wrote in response to his father's death. The songwriter has a band, Waterdeep, with his wife, Lori, who contributes additional music and lyrics, but according to a program note, the material on the album is different from the group's typical fare. The resulting musical is a sort of cross between "Mamma Mia!" and "American Idiot," in form not content. Chaffer can't decide whether to make "Son of a Gun" a staged concept album or a full-out jukebox musical and gets lost somewhere in the middle. The fact that director Gabriel Barre stages the proceedings as a rock concert doesn't help to clarify matters.
The plot is loosely inspired by Chaffer's life. A Midwestern family tours with its band, though the eldest son, Danderhauler, wants to leave the group to pursue other interests. He's at odds with his alcoholic father, Winston, who will do anything to keep the group together. When Winston is diagnosed with cancer and must have his tongue removed—which happened to Chaffer's dad—Danderhauler sees it as an opportunity to finally be his own person yet finds that he is still haunted by the domineering patriarch.
One of the troubles with Chaffer's book, which he co-wrote with Chris Cragin, is that it crams in too much story; the plot jumps all over the board. Danderhauler wants to leave the family band, and then when Winston gets sick, he decides to lead it. Once he meets the love of his life, Lucy Sunshine, the band's opening act, they get married, talk about starting a family, break up, and get back together all within the span of the second act.
Van Hughes (of "American Idiot" fame) is emotional and honest as Danderhauler, though he sometimes seems to forget that he's not in the aforementioned show. Ryan Link is unremarkable as the largely symbolic Cowboy Jesus, no doubt undermined by the tangential nature of this ridiculous character. (There's also a doll version of Cowboy Jesus to which the family prays.) Rebecca Hart stands out as Lucy Sunshine, and Alex Branton has a nice moment as the youngest son, Khorky, when he sings a campfire tune about circumcision. Both Lori Fischer and Jimmie James are heartfelt as matriarch Elmadora and Winston.
"Son of a Gun" really starts to go off the rails when Danderhauler challenges his dead father to a duel—something Cowboy Jesus prophesies at the beginning—and ends up battling Cowboy Jesus instead. At this point I just threw my hands up in the air and lost hope in the story, though not in its heart.
Presented by Firebone Theatre at the Beckett Theatre, 410 W. 42nd St., NYC. Nov. 6–18. (212) 239-6200, (800) 432-7250, or www.telecharge.com.
Critic's Score: C-