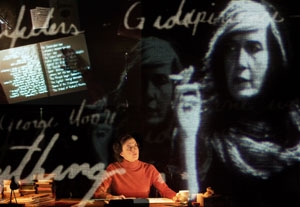 Dramatizing the act of writing or the lives of writers has always been a challenge. There's not much you can do with an author sitting at a desk furiously scribbling with a quill pen or pecking away at a keyboard. When the subject of a theater presentation is Susan Sontag, the heavily intellectual cultural critic, essayist, and novelist, the problem is compounded. Her most famous works deal mainly with ideas and literary theories, topics that do not lend themselves to staged action.
With "Sontag: Reborn," a solo play derived from the author's journals, director Marianne Weems and actor-adapter Moe Angelos attempt to solve this difficulty through the use of Austin Switser's elegant video design. Weems has Angelos sitting at a book-laden desk interacting with a projection of the actor as an older version of Sontag. This partially alleviates the static nature of the script, which consists of journal entries that Weems recites delineating Sontag's journey of the mind from brilliant teenage undergraduate to newly published author.
Unfortunately, too much of the text is taken up with long lists of books the subject is reading and movies she has seen. At least when Sontag mentions a piece of music she likes (such as the overture to "Don Giovanni"), we can listen to it. Switser livens things up a bit by projecting the movie and book titles on a scrim, but a little of that visual distraction goes a long way.
The play really comes alive when Angelos is given some juicy conflict to sink her teeth into, such as Sontag's tempestuous marriage, her ambivalence toward motherhood, and her stormy lesbian affairs, one of which was with the playwright Maria Irene Fornes. Here Angelos conveys the writer's burning need to explore and fulfill her literary talent and sexual desires. There's a fascinating tour of 1940s gay San Francisco as Sontag details a pub crawl with a girlfriend. Another charming sequence involves a visit with Thomas Mann and the difficulties of preventing a lit cigarette from burning away, so Sontag can save it as a souvenir of the literary giant.
Angelos lovingly savors Sontag's rich language. Listen to the way she feelingly expresses a metaphor for the end of childhood as "emerging from a jungle into an abyss." The area surrounding the death camp at Dachau is described as evoking "the poetry of ruin." When the focus is on feelings, Sontag is indeed reborn.
Presented by and at the Public Theater as part of the Under the Radar Festival, 425 Lafayette St., NYC. Jan. 4–15. Schedule varies. (212) 967-7555 or www.publictheater.org.