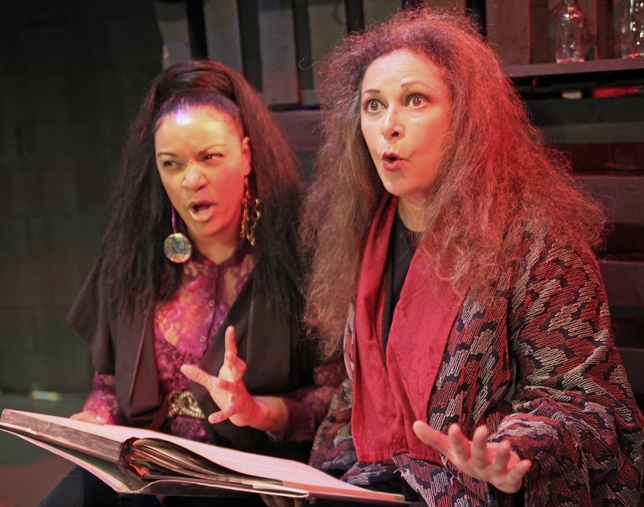 "Let me say straight off, I'm a witch," announces Sowa (Lonette McKee), the Harlem-based protagonist of Diane Richards' "Sowa's Red Gravy," in the play's opening scene. In the drama's final moments she modifies this, explaining that she is a "Christian witch." At a point between these statements we learn that Sowa is living in "quantum time." Though she's reportedly 110 years old, she can use her witchy ways to make herself 50 (or even 20-something, if she musters a Herculean effort). She's also lived lives in other eras, including one as a white American movie star.
Sowa's temporal versatility contributes to the frustration that will plague spectators used to the Aristotelian notions that plays need a beginning, a middle, and an end and that plots are set in motion when action is countered with reaction. The events in Richards' script—derived from her short stories—can barely be called episodic. They're strung together with little if any relation to one another. Throughout the play the thread of a narrative will become visible, but seldom does it add up to anything. It's brushed aside for something else: a character's monologue, a dance interlude, or the thread of another tale from Sowa's grab-bag psyche. Early on, for instance, we meet Anxiety Man (Aaron Fried), who tries to acquire Sowa's magic in order to overcome his fears about death and becoming part of a white American minority. After that single scene we never see the character again.
The main supporting characters—archetypal or stereotypical, depending on how you squint—include Sowa's sidekick, Windy Willow (Toni Seawright), a lesbian who nevertheless self-identifies as a male homosexual stuck in a woman's body; Sowa's philandering lover, Sapphire (Jonathan Peck); Sapphire's other lover, Luwanna (Kimberly "Q"); and a pimplike troublemaker named Belozah (Kene Holliday) who lusts after Windy and who may be the devil incarnate. The main action seems to concern the romantic and sexual entanglements among these people. Given that most of them successfully produce supernatural mischief, there's great potential for comic complications: competing spells canceling each other out and so on. But we don't even get a satisfying love-triangle arc involving Sowa, Sapphire, and Luwanna.
Under Woodie King Jr.'s direction, the actors tend to give limp, clichéd performances. They engage in long, annoying bouts of faux-sinister "bwah-ha-ha" laughter. McKee is especially disappointing. She mugs almost continuously, repeatedly jutting out her lips like a petulant child. The rich-voiced Peck and the gruff, menacing Holliday have some effective moments. The best performance is that of elastic-bodied Gary E. Vincent as a libidinous preacher. The dance interludes, choreographed by Bruce Heath, are lackluster, though I liked dancer Iris Wilson's moment as a bright-red crow.
In promotional materials for the show, the folklore-influenced nature of Richards' material was compared to that of Zora Neale Hurston. I was looking forward to a work that mined that rich territory. Perhaps the playwright can capture more of that in future drafts. She's not there yet.
Presented by Woodie King, Jr.'s New Federal Theatre, in association with Castillo Theatre, at Castillo Theatre, 543 W. 42nd St., NYC. Oct. 28–Nov. 18. (212) 941-1234 or www.castillo.org. Casting by Lawrence Evans.
Critic's Score: D