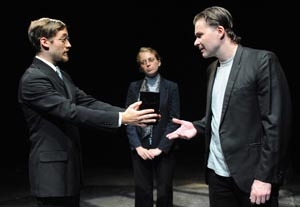 With a story that hinges on a woman's murder, an ambiguous mingling of guilt and innocence, and a pair of protagonists who subtly mirror each other, Neal Bell's "Spatter Pattern or, How I Got Away With It" has some of the attributes of a Hitchcock thriller but plays better as a stark, low-key psychological drama.
Tate (Adam Ludwig) is a college professor and Iraq War veteran who is suspected of seducing and murdering one of his students. Although there isn't enough evidence to hold him in custody, word of the accusation gets around, and his neighbors regard him with a mixture of grim suspicion and morbid curiosity. A gay writer named Dunn (Jeffries Thaiss) rents the apartment next door, and though he initially views Tate as nothing more than a promising subject for a script, their mutual wariness gradually gives way to a deeper, more empathetic connection.
It's easy enough to see what ties them together: Both of them are haunted, figuratively, by the dead. Tate's life is dominated by the specter of the student he may or may not have murdered, while Dunn broods over the memory of a dead lover whose ashes he has recently collected.
Director Jim Petosa and scenic designer Hallie Zieselman opt for an appropriately muted, bare-bones visual style, making effective use of a distorting mirror and a single all-purpose gray cube. At least initially, the play is easier to respect than to love—the type of thing one is apt to describe as "interesting" without feeling much of an emotional investment—but it grows on you, seeming richer in retrospect than it did while unfolding in real time. The two leads bring winning flashes of humor to their tortured characters, and Lucy Van Atta and Christo Grabowski provide lively support in multiple roles.
Presented by PTP/NYC at Atlantic Stage 2, 330 W. 16th St., NYC. July 10–31. Schedule varies. (212) 279-4200 or www.ticketcentral.com.